Live: A Dialogue with Danger Mouse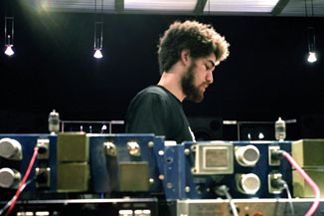 Monday, June 12, at the Hammer Museum in Westwood, rising hip-hop producer Danger Mouse appeared for a conversation with Jason Bentley, a prominent Los Angeles DJ for a discussion about indie rap and Danger Mouse's role in the upcoming L.A. Film Festival.
Bentley began by asking him about his various projects; Danger Mouse discussed his hop-hop beginnings, making music for Cartoon Network's "Adult Swim" and DJing to make extra money on the side, though he expressed a dislike for the instant-gratification of playing another's music instead of making music of your own.
Danger began working on an album with rapper Jemini, which would lead him to catch the eye of several MCs. Within the next year he would begin working with Cee-Lo from Goodie Mob, MF Doom, and Blur frontman Damon Albarn, often juggling several of the projects at once.
"When I have to make the choice between relaxing and working with another artist, I have trouble passing that opportunity up," Danger said. "At this point I just want to work with as many people as I can. So I've been pretty busy."
During this time he also produced "The Grey Album", a mix of parts from Jay-Z's "Black Album" and The Beatles' "White Album". His collaboration with Cee-Lo, which would later be named Gnarls Barkley, was the first of the post-Jemini projects he undertook and, coincidentally, the last one he finished. In the meantime, he began working with MF Doom (whom he noted to be his favorite MC) on their collaboration "Danger Doom," which spliced in clips from Adult Swim characters in what Danger referred to as an experiment combining mainstream television with undeground hip-hop.
Danger Mouse was then approached by Damon Albarn, who was about to begin the second Gorillaz album.
"I had no idea why he asked me to work with him. I hadn't done anything that would qualify me to do that kind of mainstream hip-hop, and at that point I wasn't even sure I could."
He expressed a great esteem for Albarn, who allowed him plenty of creative space and inspired him with his grueling workpace. Soon after he finished the second Gorillaz album, he rejoined Cee-Lo to finish their album.
Gnarls Barkley has proved to be among Danger's greatest achievements yet; the first single from their album, "Crazy", broke records in the UK by being the first single to hit number one by download only. Danger Mouse, however, expressed some hesitation when asked about his feelings concerning music on the internet.
"It's becoming so easy just to download single songs, or to skip all the songs you don't instantly like with just one click. Sometimes it takes a few listens to get an album, and no one takes the time do that anymore," Danger said, eliciting applause from the appreciative audience.
Danger Mouse, who had been chosen as the L.A. Film Festival's "Artist in Residence" also quickly went over the three films he chose to be screened: Woody Allen's "Deconstructing Harry", Richard Kelly's "Donnie Darko", and Rainer Werner Fassbinder's "The Marriage of Maria Braun". He expressed a particular attachment to movies, telling Bentley that before he had started working with music he had wanted to work in the film industry.
The floor was then opened to the audience for questions. One fan in attendance asked him about his Danger Mouse moniker and how much he watched the cartoons from the 80s.
"I watched those all the time!" he responded. "I watched a few not long ago and I realized how much of the British humor I didn't get, and how I definitely didn't get that as a kid, but he was my favorite. I think it was the eyepatch that won me over."
Download:
Danger Doom -
Sofa King
Gnarls Barkley -
Just A Thought
- Dominick Duhamel -
Tags:
Danger Mouse
,
LA Film Festival
,
Hammer Museum
,
mp3