Man Man Tours Your Skin Off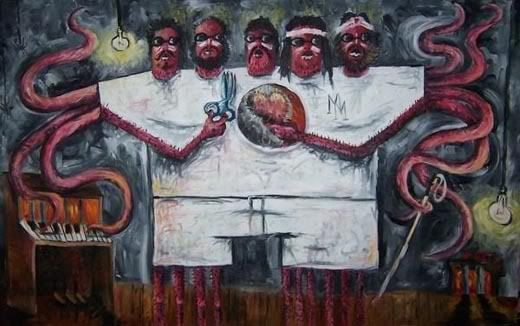 I know we usually don't post tour updates but for a band like
Man Man
, I make an exception. I've seen them three times now, which is enough for me to confidently say that they're the best live band I've ever seen—and keep in mind I got to a hell of a lot of shows. To each of the three shows I brought someone new who had never heard of Man Man and, each time, they left with the same opinion. They're headlining throughout October and then meeting up with Modest Mouse in November—I recommend seeing them before they join Modest Mouse, because it's definitely better to see Man Man play longer in a more intimate venue than to see them open for a band that kind of sucks live. This is the one show this fall you can't afford to miss. And if you're lucky enough to live near New York, you can see them play with Grizzly Bear! Should be amazing. Check the dates:
Headlining Tour:
10-04 Montreal, Quebec - La Sala Rossa
10-05 Northampton, MA - Pearl St.
10-06 Clinton, NY - Hamilton College Annex
10-08 Cleveland Heights, OH - Beachland Ballroom
10-09 Athens, OH - The Union
10-11 Newport, KY - Southgate House
10-12 Urbana, IL - Illini Union Courtyard Cafe
10-13 Lexington, KY - The Dame
10-14 Fulton County, GA - Bouckaert Farm
10-15 Memphis, TN - Hi-Tone
10-16 Birmingham, AL - Bottletree Cafe
10-17 New Orleans, LA - Republic
10-18 Houston, TX - Proletariat
10-19 Dallas, TX - The Loft at the Palladium
10-20 Austin, TX - Emo's
10-22 Phoenix, AZ - The Rhythm Room
10-23 Los Angeles, CA - Troubador
10-25 San Francisco, CA - Slim's
10-28 Portland, OR - Hawthorne Theatre
10-30 Seattle, WA - Neumos
With Modest Mouse:
10-31 Spokane, WA - Big Easy Concert House
11-01 Spokane, WA - Big Easy Concert House
11-02 Calgary, Alberta - MacEwan Ballroom
11-03 Edmonton, Alberta - Edmonton Events Centre
11-05 Regina, Saskatchewan - Conexus Arts Centre
11-06 Saskatoon, Saskatchewan - Oden Event Centre
11-07 Winnipeg, Manitoba - Burton Cummings Theater
11-09 Des Moines, IA - Val-Air Ballroom
11-10 Madison, WI - Orpheum Theatre
11-11 Milwaukee, WI - Eagles Ballroom
11-12 Indianapolis, IN - Murat Egyptian Room
11-14 St. Louis, MO - The Pageant
Download:
Man Man -
Engrish Bwudd [mp3]
Man Man -
Black Mission Goggles [mp3]
Labels: Man Man, Modest Mouse, mp3, Six Demon Bag