Live: Bonnaroo 2006, Part 2
Be sure to check out the first part of our Bonnaroo story here.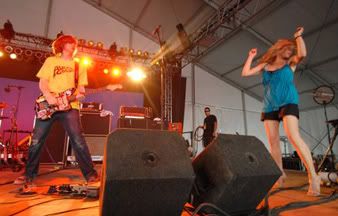 Saturday was the highlight.
Clap Your Hands Say Yeah
,
Beck
, and
Radiohead
were the three acts I wouldn't miss. CYHSY put on what can only be called a solid indie rock show, with a steady energy reminiscent of the album. The man on keys wore his best Dr. Dog shirt, a relic from Dr. Dog's short tour opening for CYHSY. Bittersweet. That damn van.
We saw a bit of
Mute Math
, a band that Max likes a lot. I trust that man when it comes to entertainment. He turned me on to Woody Guthrie, My Morning Jacket, Dr. Dog, plus the comedy of the Three Stooges. I hadn't heard of Mute Math, but we had a little spare time and made it in time for their last tune, where the vocalist howled and ran through the packed crowd in a minuscule side-tent in Centeroo. I'll definitely be checking them out at Lollapalooza.
I wasn't happy about missing free-jazz funk trio
Medeski, Martin, and Wood
, but their set coincided too perfectly with Beck's. After
Elvis Costello
's last song, I weaved the crowd to get as close as possible, no matter the conditions I had to wait in. So for an hour I waited for Beck while a circle of people leaned on my legs, forcing me to keep every leg muscle tense. The sun was shining and people were fainting, but as I said, the bad comes with the good – this kind of thing is always worth it.
Right on time,
Beck
staggered out in a white shirt, black vest, and black hat. I had a great view, about 30th row (if you can call them "rows") and about 45 degrees to the right. Not bad, considering there were 40,000 people behind me and only a couple thousand in front. And all without a press pass. I'll take it. Even with my view, I looked at the massive screen for reference, but did a double take when I saw a Beck marionette, dressed like Beck on stage, mimicking Hansen's every action. Mini replicas of the band and their equipment recreated the musicians on stage. Beck began with a few tracks off Odelay, then a few from Sea Change, and finally Guero. He left the stage and I thought it was over, but the album version of "Loser" came on and everybody danced as if it weren't a recording. He came back on with an acoustic and his band trailing him, sitting down to dinner. "I'm gawna play some songs for ya'll, and the band is gawna eat some dinner," Beck told us in a drawl that seems to overtake him in the south. Dude, you're from LA, you don't have an accent, you just have the same condition as Madonna. Despite the accent, Beck's solo set was the best mid-show acoustic set I have seen. First he gave us a slow, abridged "Do You Realize?," a cover he has played around with for the past few years. Then he told us, "I'm gonna play a Radiohead song. I don't think they'll be playing this one tonight." And he promptly ruined "Creep," but half-figured it out and redeemed himself before noodling around for a few minutes on the six string, leaving the audience asking each other, "What the fuck is going on?" But it was welcomed warmly, especially when the rest of the band jammed along on wine glasses and plates, and a kick drum backbeat took over, suddenly morphing into a full band tune and leaving everybody delightfully shocked.
Beck left the stage. It would be an hour and a half standing like a cow, shoulder to shoulder and leaning forward with a crowd of thousands of like-minded, we-need-to-get-as-close-to-Radiohead-as-possible kids, myself among them. In the end we didn't move more than five feet, but at least we were uncomfortable.
As the night took over the day and my legs gave out,
Radiohead
finally took the stage with "There There" followed by "2+2=5." The anticipation had been building for a few years, and when I saw this band I finally realized why their shows are so respected, why people pay hundreds of dollars for scalped tickets. Thom Yorke was noticeably enjoying himself, smiling, dancing his neo-hippy freak dance, and, with the rest of the band, nailing every part of every song. Even after playing some of the biggest European festivals like Glastonbury, Yorke acknowledged the size of Bonnaroo: "Now this is a festival." They played some new tunes, which are promising, but the climactic sing-along of "Idioteque" and the sonic mess of twisted vocals and synths in "Everything In Its Right Place" were the highlights. After six hours of standing without water, going blind and half-deaf in the middle of some new songs (seriously…what the fuck was that all about?), and nearly three hours of Radiohead, I was ready to head back, but when I got to my tent, all I wanted to do was go see another Radiohead show.
Sunday: After three days without a shit, shower, or shave, it's starting to get a bit old, but you can't simply skip Stephen Malkmus and Sonic Youth. Early in the day, Max juggled the old football with some people while I laid down and listened to the
Refugee Allstars of Sierra Leone
, who play African style reggae and talk a lot about what it's like to be a refugee. Turns out, it's pretty hard. We saw the first few songs of
The Streets
, who, despite the crowd's support, couldn't deliver the rhymes as fast or clear as on the record. But we had to get a spot for Stephen Malkmus.
We were about 10th row at
Stephen Malkmus and the Jicks
. The band set up and sound checked their own equipment ("as you can see, we're traveling light," said Malkmus), then left the stage for 10 minutes and returned for an hour-and-a-half set. Their set leaned more heavily on last year's Face the Truth than 2003's Pig Lib, but both were represented fairly. "It Kills" rocked the hardest, and "I've Hardly Been" appealed to the dancy, indie crowd at the festival. The band was far from flawless, but that's the kind of slack Malkmus is known for getting. He seems have improved at guitar, and had some great solo breaks, but still managed to flub the end of "Loud Cloud Crowd," ending the song instead with "Loud Crowd Crowd." The new tunes sound great, so hopefully another album is close on the horizon.
Another hour wait and Thurston Moore took the stage, lanky and pale, like the most weathered, overgrown, coolest teenager ever. Before
Sonic Youth
, we noticed a massive collection of guitars and basses, probably 15 or 20. It seemed excessive, and it was. It was the Fender Jazzmaster showcase. Ten of the thirteen guitars were Jazzmasters, varying in color, year, and sticker concentration. Thurston used the shittiest Jazzmasters to drag on speakers and sweep the stage, filling the tent with the manipulated sound of a dying guitar. This is what I came here for, complete chaos being eaten up by masses of youth. This is great entertainment. To close his set and, for me, the festival, Thurston strapped on his gold Jazz and Stephen Malkmus stepped on to sing.
We skipped Phil Lesh to keep Thurston Moore and Stephen Malkmus as the last memory of Bonnaroo. After a full night on the road I arrived home and crashed. Looking back, while this year's music was better than last, the environment was less surreal. Something seemed off. The lack of the usual Tennessee rain? Maybe. Or the fact that I had already experienced it last year? Possibly. Or maybe Bonnaroo is beginning to run its course. The word at the festival seemed to be that Bonnaroo wouldn't exist five years from now. These things come and go. But surely something similar will take its place, and a fresh young heir will continue the long tradition of the multi-day outdoor music festival.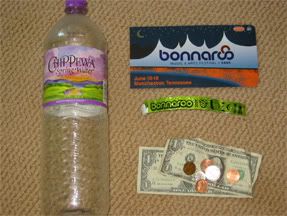 The four materials remaining after Bonnaroo: empty 1.5 L bottle of water; Bonnaroo ticket; Bonnaroo wristband; $2.19
Download:
Radiohead -
Everything In Its Right Place
Stephen Malkmus -
It Kills
Sonic Youth -
Incinerate
- Austin Bauer -
Tags:
Bonnaroo
,
Radiohead
,
Beck
,
Sonic Youth
,
mp3