Live: Bonnaroo 2006, Part 1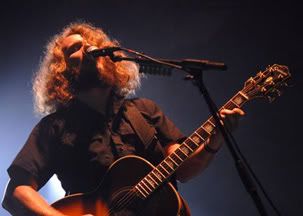 It was just your average festival – a three-night fête of eclectic music, community, guitars, farms, drugs, nature, sun(burns), port-o-potties, people-watching, and good vibes. Sure—as Beck's guitarist noted—it "smelled like hippies"; and yes, the weather was fairly intense – in place of last year's omnipresent rain, much of Bonnaroo 2006 was humid with temperatures in the 90's, no wind, and a bitch of a sun. But with the bad times come the good; to see all this music in one place at one time, there must be some sacrifice. Me, I'll take melanoma ten years down the road, so long as I remember this weekend.
After barely making my flight from LA to Milwaukee on Wednesday, my silver '97 Taurus pulled out of the Dairy State toward Tennessee at 9 AM Thursday morning. We hoped to make it to Nashville by 8:30 that night, in time to see
Dr. Dog
at the Mercy Lounge, so we only stopped for gas, and, after driving back and forth through downtown Nashville looking for this damn club, pulled up to the Mercy Lounge at 7:30. Perfect timing.
My experiences with Dr. Dog are mixed. While I admire their music, I seem to have terrible luck with the band. Their 2005 album "Easy Beat" instantly entered my top five favorite albums ever. Yes, its similarity to the Beatles is unmistakable, but while everybody is "Beatlesque" in one way or another, nobody does it with more creativity, skill, and passion than these brilliant fuckers. For me, though, things change when it comes to dealing with the band. I went to see Dr. Dog at the Troubadour for my first show in LA. For
childish reasons
, the bouncer wouldn't let me into the show. Instead of being a part of an amazing performance, I listened to the muffled sounds of the Dog from behind 3 feet of concrete in the alley behind the Troubadour. But that's another story for another article.
So my luck with this band is poor. I was expecting something to happen, I just knew it. But after somehow making the trek to the Mercy Lounge with time to spare, what could go wrong?
When we made it to the club, I walked up to a sign that said:
"Due to mechanical issues, Dr. Dog will not be performing tonight."
"Well fuck, man, that's fucking bullshit."
I went inside and spoke with the club's bartenders and manager, all of whom assured me, despite the optimistic rumors outside, that Dr. Dog would not be performing. Their van broke down just outside Atlanta. There they were stranded, and they ended up missing the next few dates of their tour. What a classic story. All I could think was how terribly coincidental it was that the only time this band failed to play a show was when I somehow manage to complete a 600-mile trip in 10 hours. Amazing.
But I laughed it off the best I could and took I-24 towards Manchester. An hour later, we entered the campground with no line, no search, no questions, and less than 10 minutes' walk to the stages – a step up from last year's five-hour line, car search, and a muddy 30-minute walk to the stages.
With nothing better to do, we checked out the Thursday night entertainment.
Devotchka
played gypsy rock 'n roll, electrified eastern-European polka-folk. The Japanese punk-rock trio
Electric Eel Shock
snarled their lips and chewed their guitars at The Other Tent, wanting to be ACDC so bad – and acting more outrageous – that you can't help but dig it. Songs like "Sex Noises" wrapped the audience in the sounds of a 20-year-old Japanese guitarist making far-too-realistic sex noises into the mic, which was simultaneously entertaining and awkward.
On the walk to the Comedy Tent, we ran into one of many pieces of interactive art at Bonnaroo's aptly named focal point, Centeroo. This particular contraption was a mess of metal that made a variety of sounds with different pitches and timbres. Stoned hippies danced and banged away with sticks, pens, and spatulas. Thankfully, as long as there were a lot of people hitting it, the instrument would create an impressive beat, like a huge robot monster with thousands of clanking parts – who dances. Anyone could join in. The more, the dancier.
When that got old after about a half hour, we headed to the Comedy Tent and saw the last 20 minutes of
Patton Oswald
, who had a fair set. It seems "fuck" always makes things funnier. So does weed.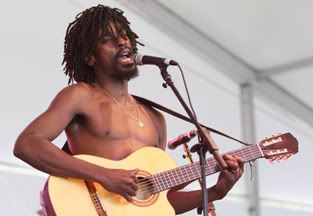 After a much-needed rest,
Seu Jorge
opened the first full day of Bonnaroo with "Rebel Rebel." Everybody loved it because they recognized it, but Seu instantly jumped into his own material backed by a hot Brazilian band. The audience embraced it, more than they would have even if he had played the entire "The Life Aquatic with Steve Zissou" soundtrack.
Seu Jorge closed on an energetic note, and we ran to make the last half hour of
Ben Folds
who sported sunglasses and an air of empowerment from the sheer size of the crowd. I don't know if he was coked out or just feeling especially cool, but his ego wasn't so maddening as it was distracting. Coked out or not, he was more energetic than I had seen him, and his new band only added to the energy. I've gotten bored with seeing him alone at the piano; a rhythm section is essential. In "Army," Folds split the audience in half and had them sing the call-and-response horn duo, with 15,000 fans singing over 15,000 more. (Luckily the audience at Bonnaroo is impressively musical and can clap and sing together well. I wasn't at a single show where the audience didn't clap in unison at least three times.) Although the band underperforms the Ben Folds Five lineup from years ago, and despite the fact that I missed half the songs, this was the best Ben Folds show I have been to.
At
Bright Eyes, Conor Oberst
crooned and drank tequila. Taking advantage of the high concentration of musician-friends at the festival, he invited
Gruff Rhys
of the
Superfurry Animals
to the stage, where he played a few tunes with Bright Eyes and a solo acoustic version of "Hello Sunshine." Then
My Morning Jacket's Jim James
and folk singer
Gillian Welch
came on to sing backup. With one stage filled with all these recognizable faces, you come to realize why such multi-day outdoor festivals have grown to become as important as they are.
After Bright Eyes, I swung by
Oysterhead
, which, as expected, blended Les Claypool weirdness with Trey's more spaced out solos – listenable, but not spectacular. I skipped
Tom Petty and the Heartbreakers'
headlining set because nobody else wanted to go, and I would only have stayed for a few hit tunes, which makes me feel dirty. Plus, I needed food and water to keep from passing out.
At midnight (this is still only Friday), four-time Bonnaroo vets
My Morning Jacket
began a 3½ hour set of which I could only stand for half. My good friend and festival-mate Max is an avid MMJ fan and assures me they played every song flawlessly. And from what I saw, they were rocking pretty fucking hard, pretty fucking late.
Download:
Dr. Dog -
Say Something
Seu Jorge -
Rebel Rebel
My Morning Jacket -
The Bear
- Austin Bauer -
Tags:
Bonnaroo
,
Dr. Dog
,
Ben Folds
,
My Morning Jacket
,
mp3