Live: Radiohead 6/23/06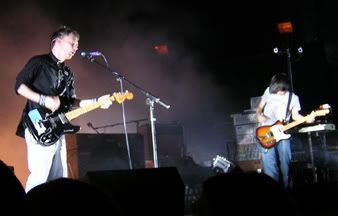 Was it Radiohead that brought the fog rolling in? I wouldn't be surprised. Thom Yorke opened his two-night show (well, two-night for those who are rich, lucky, or have their priorities straight) at the Greek Theater in Berkeley with the chilling vocals of "You and Whose Army?" in a theatre that was dead silent. Playing some old and what felt like the entire new album, Radiohead had the theatre gyrating with adoration of the band's every motion. And, yes, though Thom got a little pissed because of some technical problems with his monitor, by the encore they had everything in its right place (corny, but it had to be done).
Of their new material, "15 step," a fast-paced track in 5/4 and complete with an unusual yet ultimately followable clapping scheme, seems like it will be the album's biggest hit. As expected, Radiohead has evolved between their last album and this one, utilizing the old rock/electronica blend, yet innovatively infusing R&B-esque rhythms and chords. A prime example of this was the band's performance of the new song "All I Need," played for the second time ever at the Berkeley show. With its simple beat and relaxed vibe, this new song is a pretty good indication that the band has got some inventive stuff in store. This new influence also shined through in the song "Nude," featuring Thom wailing in an Ella Fitzgerald sort of fashion. Although it is unreleased thus far on any album, the band chose to play the song both nights, hinting that it will probably appear on the upcoming album.
To close the show, in classic Radiohead style, across the stage lights scrolled the words "And Ever and Ever," a subtle treat for their dedicated fans who saw them on their Hail to the Thief tour, which ended with "Forever" sprawled across the stage. Other highlights included: Thom stopping the song "Nude," putting the sound guys in their place, and starting it over; some fat guy jumping on the stage and being tackled by security; Thom describing the new material as "way sketchy;" and, oh yeah, Deerhoof.
Download:
Radiohead -
You & Whose Army?
Radiohead -
15 Step (Demo)
Deerhoof -
Siriustar
- Sarah Rothberg -
Tags:
Radiohead
,
Live
,
Deerhoof
,
mp3