Catching Up On 2007: Albums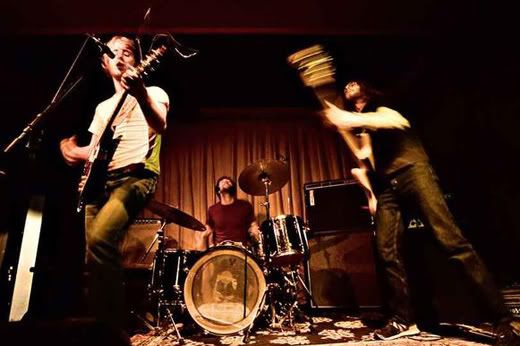 As you all have undoubtedly noticed, we've been slacking on the whole "being a real music blog" thing. To make up for the past couple months, I'm doing a run through of this year's best releases so far (this means officially released, not just leaked). There's been a few sizable disappointments (Wilco's boring "Sky Blue Sky" and Modest Mouse's exhausted "We Were Dead…") and several albums receiving way more attention than they should (The National's "Boxer", The Arcade Fire's "Neon Bible"), but on the whole 2007 has been a pretty great year for music. And, with incredible albums still to be released by Iron & Wine, Liars, Animal Collective, Wolf Parade, and Radiohead (cross yr fingers), it's far from over. You can
download songs
from many of the following artists at the end of this post.
Andrew Bird
–
Armchair Apocrypha
This album may get a bit sleepy halfway through, but even at its sleepiest, Andrew Bird handles the material so masterfully that it almost doesn't matter. The contributions of Martin Dosh are stellar and Bird's simplified songwriting works in his favor more often than not. Nobody can get into your head with whistles and violin plucks quite like this man.
Bodies of Water
–
Ears Will Pop & Eyes Will Blink
Just a few days ago, my gospel-folk-indie-pop buddies Bodies of Water put out their first full-length, and it's everything I hoped it would be. This band handles incredible harmonies with a confidence and earnestness unmatched in the indie world; their music and lyrics are ambitious and expressive without being heavy-handed. This album makes you wonder why bands like the Polyphonic Spree, with five times as many members, sound so much less huge. Bodies of Water is in a league of its own and, as a result,
Ears Will Pop & Eyes Will Blink
is a powerful breath of fresh air. "I Heard It Sound" and "I Guess I'll Forget the Sound..." are especially moving.
Deerhoof
–
Friend Opportunity
In my opinion, this album witnesses Deerhoof finally hitting its stride in terms of songwriting. The weirdness is still there, but they seem to have learned how to really channel it. Satomi's melodies here are stronger than ever without losing their little-girl-fooling-around-in-a-recording-studio feel and Saunier's drum beats are as manic as ever. "+81" and "Believe E.S.P." are pure ear candy. Even the slow and spacey "The Galaxist" and "Whither the Invisible Birds?" are surprisingly strong and the cathartic twelve-minute closing jam "Look Away" proves they have all the bases covered.
Dr. Dog
–
We All Belong
This album is just straight up fun to listen to, an aspect a lot of people forget to consider when reviewing this album. Every song has its own unique life and its own set of idiosyncrasies—just check out the ridiculously fuzzed out guitars of "The Girl" or the stutter-stepping finale of "The Way the Lazy Do" for evidence of that. "Die Die Die" is home to one of the most soulful vocal performances of this year and "Ain't It Strange" (which appeared on last year's
Takers and Leavers
EP) only gets better with time.
Feist
–
The Reminder
Critics call it slow-paced and a tad too adult-contemporary, but
The Reminder
is actually a very mature and well-crafted album whose only sin was to leave fans hoping for an energetic summer soundtrack less than fulfilled. Tracks like "I Feel It All" and "Sea Lion Woman" still prove that Feist can pack a punch, but in the subtleties of "Intuiton" and "The Park" (among others) are hidden her most beautiful moments. Lily Allen's
Alright, Still
may have a place in the car, but
The Reminder
has a place in the heart.
Ghost
–
In Stormy Nights
Ghost has been a favorite band of mine for a long time and I just realized I've never written about them, which is something I plan to change very soon. This album reaffirms that Ghost is making entirely singular music, ranging from gentle folk to long sessions of improvisation and experimentation. The album's centerpiece, "Hemicyclic Anthelion", is a half-hour journey of epic proportions, while "Caledonia" actually makes Celtic traditional music sound interesting.
Islaja
–
Ulual YYY
This album is just so wonderfully weird, full of songs that really don't sound like songs at all. Islaja's vocal performances are haunting and intimate (even in another language) and the music over which she sings is dense and unpredictable. No particular song stands out, but listening to this album is a sort of out-of-body experience, the soundtrack of a journey through a land you never thought could exist.
Lewis & Clarke
–
Blasts of Holy BirthBlasts of Holy Birth
is probably the best folk album released so far this year, gentle and beautiful. It's nothing terribly inventive, but it doesn't claim to be. The lengthy "Before It Breaks You" and the gorgeous "Black Doves" are breezy and spacious, conjuring up images of the rural countryside with startling clarity.
Lichens
–
Omns
For a sparse instrumental album based primarily on droning and looping,
Omns
is remarkably captivating. Rob Lowe has an incredibly soft touch—in his hands, the hit of even a single piano key can develop its own persona. This is the kind of music to listen to when you want to sit with your eyes closed for a while; not an album made up of a select few beautiful moments, but a single beautiful moment stretched long and thin like a blanket. No other release this year has such a tangible and ethereal sense of atmosphere.
Panda Bear
–
Person Pitch
This album is ridiculous—Noah Lennox lays melodies stronger than any we've heard this year over a backdrop of wonderfully experimental but still accessible music. In short, he's doing everything right. Each song is masterfully arranged, full of hidden bits and pieces that emerge during repeated listens and never cease to charm. Lennox's new life in Lisbon seems to be suiting him just fine and this album, above all things, perfectly captures that joy in its most genuine form.
The Shaky Hands
–
The Shaky Hands
If you were one of those people blaming Feist for the lack of a proper summer soundtrack, this is the album to turn to (after several months, it's still in heavy rotation on my car stereo). The debut album of Portland's Shaky Hands is home to thirteen tracks of sunny sixties joy, infectious melodies, and a refreshing vivacity. There's not one bad song in the bunch, and "The Sleepless" and "Another World Pt. 2" are especially phenomenal. This is one of the most exciting young bands I've come across in a long time.
Spoon
–
Ga Ga Ga Ga Ga
Whatever, it's a stupid title. I've never been able to get into Spoon, but this album has made me a believer. Britt Daniel spews character and charisma all over these tracks, which retain that signature Spoon minimalism without sounding boring (unlike previous albums). The guitar licks of "Finer Feelings", the bridge of "Don't Make Me A Target" and the sleeve-worn emotion of "Black Like Me" are career highlights for sure. This one's gonna get some album of the year awards. Maybe not from me, but it will. And I'll have no real reason to disagree.
Download:
Andrew Bird -
Imitosis [mp3]
Bodies of Water -
These Are the Eyes [mp3]
Dr. Dog -
The Girl [mp3]
Ghost -
Motherly Bluster [mp3]
Islaja -
Laulu Jo Menneesta [mp3]
Lewis & Clarke -
Black Doves [mp3]
Lichens -
Faeries [mp3]
The Shaky Hands -
The Sleepless [mp3]
- Dominick Duhamel -