Podcast: An Intro to Will Oldham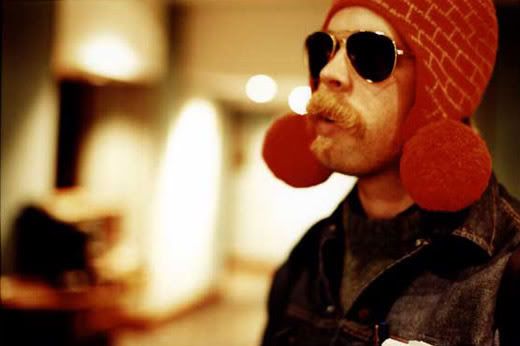 For those of you who didn't already know, Will Oldham is one of my all-time favorite artists, coming in second only to the boys from Radiohead. Over the last fourteen years, he's released ten proper full-lengths, two cover albums, three albums of b-sides and rarities, a live album, and countless EPs under the monikers of Palace Brothers, Palace Songs, Palace, Palace Music, Will Oldham, Bonnie "Prince" Billy, and Bonny Billy. He's collaborated with Matt Sweeney, Johnny Cash, Dave Pajo, Dawn McCarthy, Tortoise, Alasdair Roberts, and Sage Francis and has also scored several independent films. "I See A Darkness", his 1999 full-length under the name Bonnie "Prince" Billy, has sat comfortably as my third favorite album of all time and will likely remain there for some time to come.
Oldham is also an accomplished actor; he's had leading roles in both Matewan (1987) and Old Joy (2006), both of which witness his quirky but phenomenal acting ability. The latter is one of my favorite films of the last few years. He also acts in some of his own music videos—below I posted the music video for Bonnie "Prince" Billy's "I Gave You", a somber one-shot piece that was easily one of the best music videos of 2005. The point of all this, of course, I have yet to see Oldham involved in anything I didn't like (his collaboration with Tortoise was pretty sub-par, but that was mostly Tortoise's fault).
Will Oldham's work is best described as dark folk-rock with a detectable country influence. Above all things, Oldham's vocals and lyrics are described as utterly human, capturing despair, the human condition, and little moments of joy magnificently. Look no further than "You Will Miss Me When I Burn" for proof of that. His work is not for those who look to music for escape, but rather for those who see and struggle with that same darkness. It is not music without joy, however; there is joy to be found in identification, as well as in the fleeting moments in which love or friendship can lift a soul above what Oldham considers to be the harsh reality of things.
This podcast is a sort of introduction to the works of Will Oldham, taking some of the best tracks off each of his proper full-lengths as well as his b-sides and rarities compilations. "Ohio River Boat Song" and "Madeleine-Mary" are two of my favorite songs ever and are absolutely necessary listening. What makes the latter even more amazing is that it's comprised of only one chord, A minor. A faster and better-produced version of "Riding" appears later on "Lost Blues and Other Songs" and is probably better known, but the earlier version captures an unforgettable sense of brooding and incredible emotional strain. "Just To See My Holly Home" is one of his more upbeat songs and, along with "Barcelona", is one of the Oldham tracks most suited to sing-alongs. "I Gave You" is the haunting closing track from Oldham's 2005 collaboration with Matt Sweeney. The gorgeous backup vocals on "Strange Form of Life" are courtesy of Faun Fables' Dawn McCarthy, who appears on the majority of Oldham's most recent album, "The Letting Go" (for which I wrote a
lengthy review
).
Contents of the Podcast:
[0:00-4:26] "Riding" from
There is No-One What Will Take Care of You
(1993)
[4:26-7:44] "You Will Miss Me When I Burn" from
Days in the Wake
(1994)
[7:44-10:26] "The Brute Choir" from
Viva Last Blues
(1995)
[10:26-14:02] "Stablemate" from
Arise, Therefore
(1996)
[14:02-18:28] "Ohio River Boat Song" from
Lost Blues and Other Songs
(1997)
[18:28-22:12] "O Let It Be" from
Joya
(1997)
[22:12-24:44] "Madeleine-Mary" from
I See A Darkness
(1999)
[24:44-29:05] "Stable Will" from
Guarapero/Lost Blues 2
(2000)
[29:05-32:48] "Just To See My Holly Home" from
Ease Down the Road
(2001)
[32:48-36:36] "Wolf Among Wolves" from
Master and Everyone
(2003)
[36:36-39:18] "I Gave You" from
Superwolf
(2005)
[39:18-44:50] "Barcelona" from
Little Lost Blues
(2006)
[44:50-48:44] "Strange Form of Life" from
The Letting Go
(2006)
Download Podcast: An Into to Will Oldham [mp3]
Music Video: "I Gave You", directed by Mike Piscitelli
Note: If you want to download the podcast and the link has expired, shoot me an email and I'll put it back up as soon as I can.- Dominick Duhamel -
Labels: Bonnie "Prince" Billy, mp3, Palace, Podcast, Will Oldham