Little John's Picks, Rips, and Quips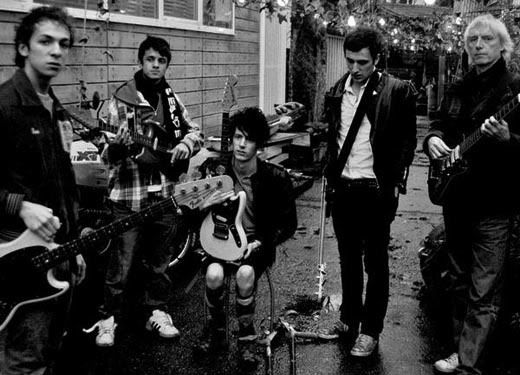 As I write this I am listening to
Ozma
's latest album, "Pasadena", on their
myspace
. It's being released this week, and I had been excited for it for the longest time. Sadly, I caught hold of a few tracks and was sadly disappointed, but still left with some hope. If you don't know, Ozma is an LA-based powerpop band along the same vein as Weezer. In fact, they opened for them years ago during the "Maldroit" tour. It was good times.
And since then, they have made a couple albums, broke up, and got back together again. The only change since they're previous outings is the acquisition of drummer Kenn Shane, but it's starting to sound like a completely different band. The divide between principal songwriters Ryan Slegr and Daniel Brummel is growing, and it's almost painfully obvious here. And I'm only a quarter of the way through the album.
I'll bet that every song Slegr touches is lame, and anything Brummel writes will be somewhere decent and awesome. I'm not saying I don't like Slegr's songwriting, as I've enjoyed his work in the past. It's just…what is up with these new songs? Take a peek at "Fight the Darkness," and you'll be laughing within the first 10 seconds guaranteed.
Listen
to it for yourself.
* * * * *
Also, over the weekend, I had the pleasure of running into a few sites that had
Queens of the Stone Age
's newest single off their upcoming release, "Era Vulgaris". The single is "Sick Sick Sick" and it is one interesting track. No real hooks, no catchy melodies, but it's just a memorable song. There's something about it, with all the clashing noises in the background, that sick guitar riff after the first chorus, and those pulsing drums that make me want to listen to it over and over again. And if you can find it off of hype machine or something of the sort, look for "3s and 7s", it's pretty awesome as well.
Listen
to it along with a funny little lightbulb guy on their myspace.
* * * * *
And last but certainly not least, the
Mystery Jets
released their debut U.S. album, "Zootime", last week. It caught me a little off guard, as I wasn't expecting it until June. But check it out, please, you won't regret it. The majority of the songs were already recorded a year or so ago from their U.K. album, but this versions seems a little more polished/cleaner. The title track, for example, has been sped up and been giving a huge energy boost (something I previously thought was impossible as the song was already hugely impressive before). There are a couple of new additions as well, like the very cool "indie-reggae" (Danny's words, not mine) track "Crosswords." I like saying Ted Leo has one of the tightest rhythm sections in rock music today working with him, but this song makes me think twice about that statement (only think twice though, I don't change my mind). Check out the Mystery Jets' Myspace, with a few tracks off their latest album
here
.
Download:
Mystery Jets -
You Can't Fool Me Dennis [mp3]
- John Higgins -
Labels: mp3, Mystery Jets, Ozma, Queens of the Stone Age