B-Side Bonanza: The Good, the Bad, and the Fucking Useless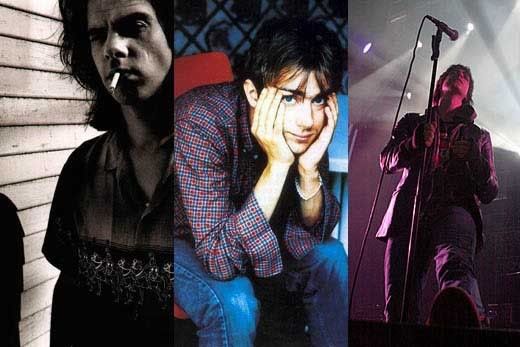 Grinderman: "No Pussy Blues" Single
B-Side: "Chain of Flowers" [mp3] 7/10
If "No Pussy Blues" is Nick Cave's snarling, pissed off, Mr. Grinder half, then "Chain of Flowers" is its slightly more vulnerable alter ego. The two couldn't be more divergent, which is the epitome of B-Side goodness. No one wants to hear a retread of the flip side or another sub-par album outtake. A B-side, especially in the age of iTunes, is the prime spot for a band to flex its ability and do something different from what lays on the proper album. Where NPB throbs, Chain lilts, but both hold equal emotional weight. When all is said and done, both of these songs are about attempts at fornication. It is an interesting proposition to take on the same dilemma from conflicting points of view. The singer of NPB is pissed at his chastity while the Chain singer simply laments it and waits. It's odd that Cave waited until this noisy project to hand over one of his most pensive and beautiful songs ever. Chain also proves that Cave can write a gorgeous song after switching to the guitar from his coveted piano. The entire band is in prime form, providing sugary background vocals, while drummer Jim Sclavunos seems to relish his role as the band's sole drummer, riding the high hat like his life depends on it. Granted, Cave could sneak into my apartment and sleep with my little sister and I'd probably still rate the encounter as a seven or higher on this website. Luckily for everyone, he's a certified mother-fucking genius and I don't have a little sister.
The Good, The Bad & the Queen: "Kingdom of Doom" Single
B-Side: "Hallsands Waltz (Sketches of Devon)" [mp3] 3/10
B-Side: The Bunting Song (Live) 5/10
This, ladies and gentlepeople (did you know gentlepeople is actually registered as a word in spell check?) is exactly how not to do a single. With the average single ranging from 6 to 10 dollars nobody needs a lackluster instrumental jam like Hallsands Waltz (or see: The Herculean Single) or a random live track that is almost indistinguishable from the album cut added to the bands catalogue. At least they didn't pull the final B-Side blunder and put a demo on there (that would be the Green Fields Single). It seems that Damon Albarn has implemented a no singing on non-album tracks policy that started on the Herculean single and continues onto this one. This wouldn't be as egregious of an offense if the tracks were high-quality affairs. Unfortunately, Hallsands sounds like the kind of awkward reggae toss off that the band that wins the school talent show plays in their garage to warm up (with vastly improved drumming of course). The worst part is… nothing… happens. How can people as talented as the members of this superband obviously are write a three-minute song that feels four minutes too long?
A slight up-step, the Bunting Song falls into that weird category of live songs that doesn't have enough outside noise to sound exciting, but is still recorded at a slightly worse for wear quality. While the song on album is very pleasing, both versions suffer from the fact that Tony Allen's superb drumming is all but nonexistent until the song's outset, which in this version is full of subtle feedback. Why employ such a character and then not utilize his skill? It is unclear just how a band could craft such a subdued and striking album and then continuously drop the ball regarding singles. Speaking of dropping the ball…
The Strokes: "You Only Live Once" Single
B-Side: "Mercy, Mercy Me (The Ecologist) [Marvin Gaye Cover]" [mp3] 2/10
Of course, the Strokes had a far lower height from which to let said ball hit the ground, but this single is a colossal blunder in every way shape or form. It's hard to imagine the conversation that preceded both Eddie Vedder and Josh Homme joining the band in the studio to concoct this epic mistake. In attempting to channel the master of soul, both Vedder and Julian Casablancas get their croon on and the results are as boring as you can imagine. You would think that somewhere during the recording at least one of the seven participants would hear what an awkward, mumbly, too-many-drummer-filled, awful piece of disingenuous shite cover of an amazing song they were generating and call it a day. Also, what is the point of bringing Homme into the studio and then sitting him behind the drum kit instead of utilizing either his voice or guitar work? If they were smart they would have just hid Eddie back there made sure he didn't make any more noise with his mouth. Let Casablancas ruin it, keep some dignity Eddie, you all deserve better than this.
- Matt Lindsay -
Labels: Grinderman, The Good the Bad and the Queen, The Strokes