Track Review: Deerhoof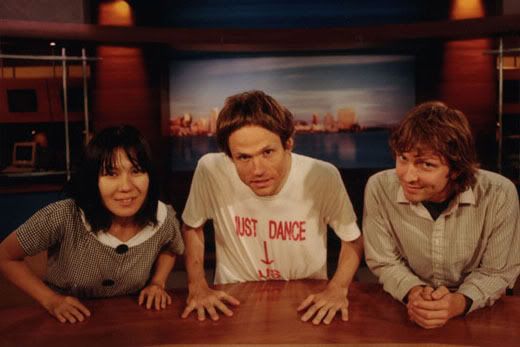 "Believe E.S.P."
from "Friend Opportunity"
8/10
The word "groove" is thrown around pretty carelessly these days. I'm not sure when every crackerjack asshole with a pair of drumsticks in his hand and a passable internal metronome became a commander of grooves, but it has to stop. The word "beat" is much more appropriate—a beat is something you can write down on paper, something you can program into a drum machine, can keep time to. A groove is a whole different animal—it's got soul, it communicates, it harnesses and releases energy like no other beat can.
But in a time that society as a whole can rarely distinguish the soul from the soulless and the passionate from the carefully crafted, the notion of groove is being abused. It is this bleak, dying image of the hip-shaking world that Deerhoof (and its drummer, Greg Saunier) has come to save with little more than a song three minutes seven seconds in length and the most infectious cowbell this side of "Don't Fear the Reaper".
But while the Blue Oyster Cult classic tune required an obnoxious Will Ferrel to get itself in the heads of its viewers, Deerhoof lets it speak for itself. Let me talk about this groove a little bit more. If you were somehow transported to a strange and distant world where the barely-humanoid creatures were ruthless and man-eating but also somewhat rhythmically challenged, your only chance of escape would be to whip out your copy of "Friend Opportunity" (which, of course, you have on your body at all times for a situation just like this, even though your friends tell you you're a dumbass and draw obscene things on your face at night simply because you're such a heavy sleeper), find a giant stereo (which may or may not exist on a planet of rhythmically-challenged aggressive alien beings), blast "Believe E.S.P. at full volume, and smell the horrible stench their sulfur-based bodies exude as they melt in the glorious but debilitating groove to end all grooves. It would be kind of like that scene in the Mario Brothers movie where Mario and Luigi are in the elevator about to get captured by the goombas but neutralize them with a song that makes them bob their heads uselessly. Which is also probably the only scene of that movie that's worth any of your time.
Greg Saunier and Deerhoof: using incredible grooves to save wayward interdimensional travelers from death since 2007.
(Also, the rest of this song is pretty awesome, especially Satomi's verse melody and the fragmented instrument breakdown toward the end. Just so you know.)
Download:
Deerhoof -
Believe E.S.P. [mp3]
- Dominick Duhamel -