Track Review: Bodies of Water
I'm happy to announce that this is our HUNDREDTH POST! Thanks to everyone who reads Paper Stereo and thanks especially to everyone that helps me out with the writing: John, Austin, Stacey, Matt, Ryan, Felix, Charlie, Sarah—you guys are fucking awesome. Here's a song that we can all celebrate to.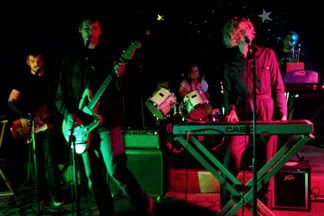 "These Are The Eyes"
from untitled forthcoming album
8.5/10
What was the last song you heard that made you rejoice? I'm talking about the kind of track that makes you want to stand up, stamp your feet, wave your arms, and make like a Southern Baptist in the church of James Brown.
My answer to this question: fifteen minutes ago, when I first listen to the new Bodies of Water track, "These Are The Eyes". Los Angeles' Bodies of Water are only two guys and two girls, but they manage to sound like an entire, inspired chorus; and while the notes may not always be pitch perfect, what they lack in precision they make up for in wild and earnest energy.
The track starts of with its hair-raising chorus before kicking it down a few notches and starting a buildup that will last the entire remainder of the four minute, fifteen second track. There's a quick, pause before voices begin to dart in and out like thieves, stealing your preconceptions about amazing harmonies (which, by the way, is one of the lamest but most truthful things I've ever written). Several measures down, there's vocal harmonies that sounds like a sample-less Panda Bear on acid before returning to the original, epic chorus.
The band has so far released only EP, which is very difficult to find. According to their website, they're coming out with a full-length sometime during the spring, and this track will be on it; needless to say, this is a very exciting time period for an exciting new band, and I urge you to check them out and see them live if possible (they're playing the Echo in LA and SXSW if you can get to either); this is the kind of band you can get behind. For more info, check out their
website
.
Because if music is your religion, this would be the band playing at all the services. In fact, listening to them is almost a service in itself.
Download:
Bodies of Water -
These Are The Eyes
- Dominick Duhamel -
Labels: Bodies of Water, mp3