Artist Profile: John Frusciante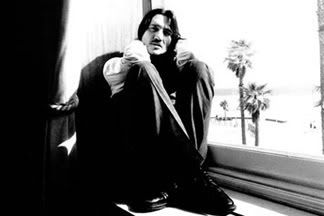 Though most know John Frusciante from his guitar and backup vocal work with the Red Hot Chili Peppers (from 1989's "Mother's Milk to the present), as an artist his scope extends far beyond. He began his solo career in 1992 when he left RHCP for six years (during which the band made what is widely considered their worst album, 1996's "One Hot Minute" with Dave Navarro in his stead). Since then, he has released ten solo albums, several collaborations, and has worked with artists from Johnny Cash and Ziggy Marley to the Mars Volta's Omar Rodriguez-Lopez and Deep Purple's Glenn Hughes. Rolling Stone ranked Frusciante 18th in their "100 Greatest Guitarists of All Time". Heavily influenced by the likes of Captain Beefheart, Frank Zappa, and Jimi Hendrix, he is one of the most recognizable and innovative guitarists of our generation.
John Frusciante – "I May Again Know John"
[
Download
]
Written for his strangest and most stream-of-consciousness album, 1997's "Smile From The Streets That You Hold", this song is Frusciante in the lowest depths of his cocaine addiction, chronicling the degree to which Frusciante considers himself lost, even in his own mind. The lyrics are cryptic, the vocals painful and desperate, the guitar impulsive. Many consider this album to be a total waste of listening time, while others consider to be Frusciante's masterpiece, his most innovative and emotionally wrenching work to date. I, of course, side with the latter.
Josh Frusciante & Josh Klinghoffer – "The Afterglow"
[
Download
]
Taken from Frusciante's 2004 collaborative effort with Josh Klinghoffer, "A Sphere in the Heart of Silence", "The Afterglow" showcases his more electronic, often ambient side, incorporating synthesizer and a drum machine. The track kicks off with Frusciante singing "Death before life" over and over. A fantastic, driving track with a great sense of space.
John Frusciante – "The Mirror"
[
Download
]
The most quiet, pensive track from Frusciante's best post-RHCP-reunion solo catalogue, 2004's "The Will to Death". Consisting mainly of piano and a track of ambient noise, it's home to some of Frusciante's most profound revelations, the opening line of the song describing the disconnect that still seems to haunt him: "There wasn't always a place for you to cry / everyone knows becoming's what you do when die / the face in the mirror's not me".
Johnny Cash – "Personal Jesus"
[
Download
]
Cash personally asked Frusciante to reword an acoustic guitar track for his version of "Personal Jesus", which was released on 2002's "American IV: The Man Comes Around". I can't imagine how anyone would say no to that.
Red Hot Chili Peppers – "Don't Forget Me (Live)"
[
Download
]
From their double live album, 2004's "Live in Hyde Park". Frusciante's guitar work comes this close (holds fingers only several millimeters apart) to melting my face off. Also, check out the solo around 3:10 and tell me your head's not spinning by the end. His backup vocals and outro solo are pretty badass, too.
Omar Rodriguez-Lopez – "Here the Tame Go By"
[
Download
]
From Rodriguez-Lopez's first solo album, "A Manual Dexterity: Soundtrack Volume One", a score to a film that is yet to be released. The song features Frusciante on guitar, beginning with a quiet acoustic line before breaking into a spacey, affected series of solos.
- Dominick Duhamel -
Labels: John Frusciante, Johnny Cash, mp3, Red Hot Chili Peppers