Album Review: Math and Physics Club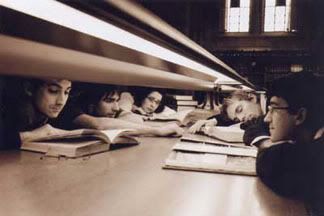 "Math and Physics Club"
Matinée; 2006
7/10
Please, please, please do not dismiss Math and Physics Club as a Belle and Sebastian sound-a-like. I know that on first listen, your ears might do a double-take because they definitely have a very similar musical style and lead vocalist. However, Math and Physics Club's self-titled album boasts its own brand of quiet sweetness that doesn't deserve to be compared to anything else.
Everything about Math and Physics Club seems young and tender. Clocking in at under half an hour, this ten-song debut is full of uncertainty and innocence. The lead vocalist is somewhat undeveloped, and when his quiet baritone reaches for the low notes, you can tell he has to try. However, the clear effort he puts forth makes his young-and-in-and-out-of-love lyrics all the more endearing. I think a perfect voice would just spoil the mood. That being said, he does have a really nice voice, and unlike a lot of male singers, he's actually singing in tune.
Math and Physics Club doesn't vary their sound much, but that's fine by me. The drums are played almost entirely on the snares or with brushes, which makes the whole CD sound like being inside on a rainy day. The jangly lead guitar mimics the vocal melody like a second voice. There's little other orchestration or backup vocals, but the album really doesn't call for it. The best thing about Math and Physics Club is that they know when to stop: just before they get boring. The whole CD sounds warm and fuzzy, in the same way that the sweater your ex-girlfriend left at your house feels warm and fuzzy—that would be the ex-girlfriend who dumped you for an older guy with a nicer car and bad taste in music.
The more you listen to this album, the less like Belle and Sebastian it will sound to you. Gone are the worldly, sexually ambiguous, messed-up lyrics. This isn't to say that Math and Physics Club is happy-go-lucky, but their sad songs are a little more innocent and relatable. There's less urgency, and the lead vocals are comfortable among the instruments instead of in front of them. Math and Physics Club has a made themselves a fine album regardless of their influences, and they definitely stand on their own as a band.
It's hard to choose favorite songs on this album because they're all very well-crafted, both melodically and lyrically. They all get stuck in my head, and I can't complain about it one bit. One of the best is "La La La Lisa." It's a little tune about having a crush on the bassist of an all-girl band: "She had the prettiest eyes, painted black like her lips / I would have died for just one kiss / or half a chance to hold hands / I knew I'd never really win / cuz I heard she only went with older kids." It's heart breaking without being depressing. It's the best example of their style, with the lead guitarist nicely complementing the lead vocalist, who croons his "la la la la"s with the utmost sincerity. It's light and airy, but still upbeat. The end features a small trumpet part, but the rest is just guitar, bass, and drums.
The track on the album that is the best example of what Math and Physics Club could achieve is "Cold as Minnesota." Here, they prove that sometimes a little more can go a long way. They bring in recorded hand-claps after a basic, groovy bass intro. And then—synth and violin? In their subtle departure from the style of the other songs on the album, Math and Physics Club learns how to stick to their minimalist style while exploring the restrained use of other instruments. They are able to enhance their songwriting without crowding it. I love the whole album, but I think that if their next one sounds a little more like this song, they will be showing positive change and progress.
"Math and Physics Club" is an excellent debut album, and I will be listening to it for a while. All this band wants is a chance to be heard, and you'll be doing yourself a favor to indulge them. I predict even greater things to come from Math and Physics Club in the future, and these songs couldn't be a better place to start.
Download:
Math and Physics Club -
La La La Lisa
Math and Physics Club -
Cold As Minnesota
Math and Physics Club -
April Showers
- Stacey Capoot -
Tags:
Math and Physics Club
,
Matinée
,
La La La Lisa
,
mp3