Track Review: Peter Bjorn & John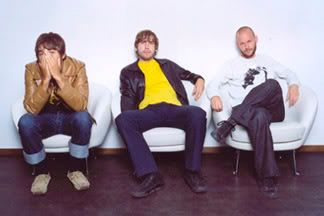 "Amsterdam"
from "Writer's Block"
7.5/10
Being from Sweden, I wonder if Peter Morén, Bjorn Yttling, and John Erikkson knew that arranging their first names in that order would create an acronym similar to that of a popular sandwich. I like to think that they did, mostly because "Writer's Block" is, at times, home to a strange sense of humor and irony. And so, henceforth, I will refer to the group as PB&J.
"Amsterdam" is a fantastic thing to behold, a shapeshifting tune crafted from various influences that never resonate enough to be predictable. The verses are positively twee, with its silly toy flute (that only gets a
little
bit annoying) and its catchy, upbeat melody. But the verse soon breaks into a pre-chorus reminiscent of the Shins, followed by a Flaming Lips-esque chorus. Here, vocal interplay is the name of the game; the voices of the three songwriters alternate, sometimes taking the helm, sometimes embellishing the melody with some spot-on harmonies, sometimes taking to the sidelines. And while this variety of elements would normally render the song a quilt composed of mismatching cloth, PB&J not only hide the seams, but make you doubt that they're really there at all.
The most pleasant surprise of all, however, is the tenuous relationship between the song's instrumentation and its lyrics. The tune itself may be carefree enough, but a closer look reveals the song to be a narrative of a traveler, lonely without a lover with whom to share the journey. The pre-chorus waxes forlorn with, "Oh, it's some kind of stupid rule / that you can't ignore / oh, it's some kind of natural fact / sometimes you're just left to be alone," before a chorus celebrates that old-fashioned, Amsterdam ennui.
If there's any fault with "Amsterdam", it's the song's novelty. PB&J's strongest suite is it's ability to catch the listener unaware, but it goes without saying that the listener can only be caught unaware so many times. Let's just say that you're not going to scratch the vinyl off your "Amsterdam" 7-inch but, in the end, it's for the better, because each time you feel like pulling it out of its sleeve and lay the needle down, it will sound as crisp and inventive as it did the first time.
Download:
Peter Bjorn & John -
Amsterdam
- Dominick Duhamel -
Tags:
Peter Bjorn John
,
Amsterdam
,
Writer's Block
,
mp3