Track Reviews: Asobi Seksu, Beach House, Horse Feathers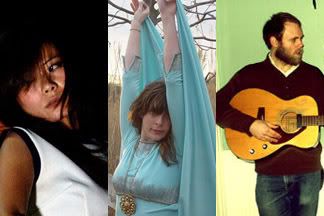 As we've hit November and the year is starting to wind down, I wanted to give props to some great artists that haven't gotten attention from Paper Stereo yet by reviewing some of their more representative tracks. I'll probably most a couple more of these multiple track reviews before the year is over, so keep an eye open.
1. Asobi Seksu – Exotic Animal Parade [
Download
]
I wouldn't say this is the best track on Asobi Seksu's new album, "Citrus" (that would have to go to "Nefi+Girly"), but I would say it's the most telling of the band's real potential. The first half is (quality, if not a little standard) sugar-coated, down-tempo pop with sluggish, atmospheric breakdowns, but its true purpose is to lull you into a false sense of security. Frontwoman Yuki Chikudate keeps you dreaming peacefully in your bed before totally blowing you up at the 2:43 mark, at which musical ridiculousness is taken to another level. The band mushroom clouds into a wailing, reverberated cacophony that's mixed to absolute perfection and momentous enough to demand your full, unadulterated attention. Think My Bloody Valentine with sleeker pop production. And then think, "Ho. Lee. Shit."
8/10
2. Beach House – Apple Orchard [
Download
]
This Baltimore-based duo's choice of a band name is really spot-on. Beach House makes music that, though it probably doesn't need mentioning, belongs in a spacious old house whose back porch is met on all sides by sand and ocean tides; a monument to a quiet and careless lifestyle. "Apple Orchard", my personal favorite track from Beach House's self-titled debut, conveys that image with a wash of synths, lazy guitar lines, and vocal melodies that stretch out across the song like sand along the shoreline. The syrupy atmosphere is almost as irresistible as the chorus: "Let's lie down for awhile / lay your head in the arms / old-fashioned." It's simple, to be sure, but, combined with the expressive background and subtle melodies, it's nothing if not totally convincing. "Apple Orchards" is coming home and feeling like you never left; it's forgetting that anything other than staring at the clouds ever mattered; it's knowing that the world interacts with you as much as you interact with the world, if only you let it.
8.5/10
3. Horse Feathers – Falling Through the Roof [
Download
]
This year hasn't been a great one for folk or any of its immediate cousins (psych folk, neo-folk… you get the idea), but Horse Feathers has delivered "Words Are Dead," a solid album of gorgeous, southern tunes that deserve recognition. The song begins with simple guitar and violin interplay in 3/4 with dreamy, reserved vocals; halfway through, however, the band transitions into a tighter, 4/4 groove grounded in staccatoed cello notes and violin accompaniment. Justin Ringle's vocals open up as he sings "Maybe / you will bruise / as you fall right through this roof / again was once". This song belongs in a wood cabin, and its listeners belong by the fire, warming their cheeks before breaking into wine-inspired interpretive dances. This is the kind of affecting, back-country folk we haven't heard since Iron & Wine's "Our Endless Numbered Days"—and though it may not quite compare, "Falling Through the Roof" still provides a rustic, well-crafted roof to protect us from the cold in the coming winter months. Come on in, it's warm inside.
7.5/10
- Dominick Duhamel -
Related Tags:
Asobi Seksu
,
Beach House
,
Horse Feathers
,
mp3