Track Review: Lupe Fiasco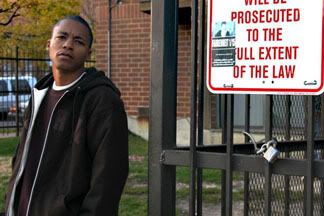 "Daydreamin' (Feat. Jill Scott)''
from "Food & Liquor"
8.5/10
Lupe Fiasco's "Food & Liquor" is a strong contender for this year's best debut album, and tracks like "Daydreamin'", with its toned-down orchestral production, jazzy breakdowns, and explosive verses, is exactly why.
Though much of "Food & Liquor" suffers from over-ambitious production (too much strings, too many things going on in the background, drum tracks that lose focus, etc.), "Daydreamin'" nails exactly what sweeping, orchestral production should be: a background on which the emcee and whomever else he has in the studio can work their magic.
The track sticks to a straight chorus-verse-chorus-verse-chorus arrangement, each of the sections interesting enough to make its simplicity appreciated. Jill Scott's choruses (and especially the last one) are jazzy and soulful, and in the end it's her parts that stand out, adding wonderful contrast to Lupe's straight-up badass rhymes.
Another absolutely fantastic contrast takes place between the lyrical themes of the verses and choruses. While Jill Scott sings simple but colorful lines like, "Daydream / I dream of you amid the flowers / for a couple of hours / such a beautiful day", Lupe spins a web of social criticism and blazing satire, jumping from technology gone awry to the degradation of women to the problems with hip-hop. Check this line: "Now come on everybody, let's make cocaine cool / we need a few more half-naked women up in the pool / and hold this MAC-10 that's all covered in jewels / and can you please put your titties closer to the 22s?" Lupe's got something to say, and he's not afraid to say it. Needless to say, this is a refreshing thing to hear from mainstream music.
But Fiasco's greatest moment is his last line, as the orchestra builds up and Jill Scott prepares to go into her monumental last chorus: "I'd like to thank the streets that drove me crazy / and all the televisions out there that raised me." And, in that instant, it's totally clear why Lupe Fiasco's one of the most exciting new voices in hip-hop and why, in his best moments, he can pit his flow against anyone.
Download:
Lupe Fiasco -
Daydreamin' (Feat. Jill Scott)
- Dominick Duhamel -
Related Tags:
Lupe Fiasco
,
Food & Liquor
,
Jill Scott
,
mp3