Album Review: The White Stripes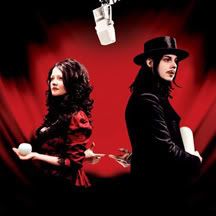 "Get Behind Me Satan"
V2; 2005
6.5/10
"Death can't be lying / it's the truth and it don't make a noise." On the newest White Stripes album, Jack White recalls a lyric from his band's second album, "De Stijl", but he should be recalling a lot more from it. The truth is that the noise the White Stripes make on "Get Behind Me Satan" lacks the punch of their earlier work, and it's brought them one step closer to their musical grave.
I have always fiercely defended the White Stripes' stripped-down, minimalist approach to rock, and I always will. Sure, I'll admit that Meg White isn't much more than a powerful metronome with an average voice, but with Jack White running the show, she's never needed to be much more than that. With his signature off-pitch wail and aggressive guitar riffs, Jack doesn't even need a bassist to back him up. Meg pounds the hell out of her drum set, and Jack's vocals swagger over every frantic, dirty, gut-wrenching lick he plays.
I wish so much that Get Behind me Satan had sounded anything like the White Stripes I just described.
The album is a perfect example of quality being sacrificed for experimentation. Jack White has gotten marimba-happy, and I'm left wondering where his guitar has gone.
Most of the tracks are quality tunes when judged alone. The introduction of marimba and piano to the band's sound produces a number of eerie pseudo-ballads that would have sounded great scattered throughout several albums. Together, they make up a record that just plods along through one heavy track after another. Most of the songs are too long and sound too similar to each other. "Get Behind Me Satan" lacks the intensity and fury that the White Stripes are truly capable of. When your only real instrument is a guitar, it's unwise to just put it on the backburner.
While the album disappoints in its overall flavor, there are a few saving graces. The first is lyrics. Jack White's lyrical style is highly underrated. On "Get Behind Me Satan", he goes from romantic and complex rhyming schemes ("Oh Rita, oh Rita / if you lived in Mesita / I would move you with the beat of a drum / and this picture is proof / that although you're aloof / you had the shiniest tooth 'neath the sun") to playful verse that seems to serve no point other than to accompany the music ("And all the chickens get it / and them singing canaries get it / whoo!/ even strawberries get it / I want you to get with it.")
Another nice surprise on the album is Meg's song, "Passive Manipulation". Similar to her drumming style, Meg repeats one verse over and over, but with a coy authority that stamps her strange brand of cuteness on the unsettling theme of female oppression.
The most original song on the album is "Ghost", in which Jack tells the story of his tragic romance with the spirit of a dead girl. The song is an up-tempo bluegrass tune, with banjos and harmonies that sound straight out of a hoe-down.
Jack White salvages the album in the end with "I'm Lonely (But I Ain't That Lonely Yet)". He has always had a knack for tender, tongue-in-cheek ballads like "I Wanna Be The Boy", but this one is possibly his best. This piano tune has a slow swing with noticeable crescendos in all the right places. "She's homely, and she's cranky, and her hair's in a net/ Well I'm lonely, but I ain't that lonely yet". Maybe the White Stripes won't settle for homely lovers, but judging by "Get Behind Me Satan", they were a little more willing to settle for mediocrity.
Download:
The White Stripes -
Little Ghost
The White Stripes -
Passive Manipulation
The White Stripes -
I'm Lonely (But I Ain't That Lonely Yet)
- Stacey Capoot -
Tags:
White Stripes
,
Jack White
,
Get Behind Me Satan
,
mp3