Track Reviews: The Nightmare Before Christmas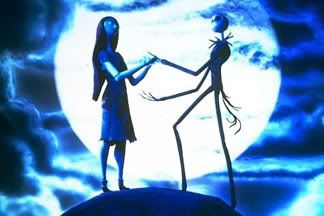 Or: "Paper Stereo's John Higgins takes a shit all over mainstream pop rock in honor of Halloween."--Ed.
This year, Disney has decided to re-release one of Tim Burton's best works in 3-D. I've heard some pretty mixed reviews about the whole 3-D thing, but what I hate is what Disney has done to the soundtrack. They added a second CD to the album with five covers. I thought it could've been cool when I first heard about it, but then I found out what bands had signed on to do this.
1. Fall Out Boy – What is This
First is Fall Out Boy's take on "What is This." How is it different? First of all, it sucks ass. The nice, lush orchestral instrumentation has shrunken down to a 4-piece setup. Unsurprisingly, the song does not work when the melodies and harmonies are just done with chunky guitars and vocals. That, and the bass sounds like it's coming out of a little toy. Oh, and did I mention that these guys can't sing for crap? The main guy sounds awful, and on top of that he doesn't even sound like he's into the song. He's just reading words on a page.
1/10
2. Panic! At the Disco – This is Halloween [
Download
]
I don't know how you can call this a cover. These guys have managed to barely touch the instrumentation at all, and yet they have easily made one of the worst songs of the bunch. As a side note, I really wonder if these guys can play any instruments, since I highly doubt they're capable of playing all the string/wind instruments on this track and some others they've done. Oh, and this is some of the worst vocals out of these five tracks. It sounds uninspired, weak, and out of tune. Honestly, this band can't do anything right.
0/10
3. Marilyn Manson – This is Halloween [
Download
]
Marilyn Manson does a different take on the same song. This time it's grungy sounding guitars, and heavy pounding drums. You know—a lot of what he normally does. What's nice though is that he actually makes it sounds like this is his song, and it still fits the Nightmare Before Christmas theme. His vocals feature all his little tricks, and it fits in nicely. The only thing I have with this song, though, is that I think I find it funnier than good. It just seems a little silly for Marilyn Manson to be singing about this, doesn't it?
5/10
4. She Wants Revenge – Kidnap the Sandy Claws [
Download
]
Do you want to hear what this song would sound like if it was done by a really bad Joy Division rip-off group? Yeah, I didn't think so. Just about everything in this cover is wrong. The main problems is that it's just way too slow and the guy sounds depressed. And why is it so monotonic? I thought this was supposed to be an upbeat track? That kind of juxtaposition isn't even artsy, it's just dumb. Simply put, the music doesn't fit at all.
0/10
5. Fiona Apple – Sally's Song [
Download
]
Now here is the main reason why I was still interested in hearing these tracks. If anyone can do justice to this track, it's Fiona Apple. Vocally, everything's pushed down what sounds like an octave, but it still works. It makes the song a little darker and draws more attention to the musical accompaniment. The vibraphone and soft background drums are great additions as well as keeping the lovely supporting string section. And then that quick stop in the final chorus is placed just right to accent the lyrics. Very nice job overall.
7/10
- John Higgins -
Tags:
Nightmare Before Christmas
,
Disney
,
Fiona Apple
,
mp3