Track Reviews: Peaches, Bonnie Billy, Califone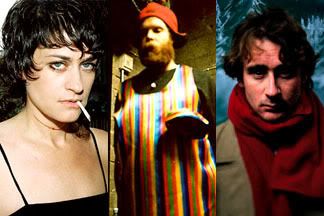 Check out these recently released covers/remixes, and dig them. Pretend these are a counterpoint to John's "Nightmare Before Christmas" reviews, if only because these songs are good and those songs are not (except for Fiona Apple's, and that's because she is a goddess).
1. Peaches – Boys Wanna Be Her (Flaming Lips Remix) [
Download
]
Peaches songs are always too long. I dig that she's edgy and crude, and, in her better moments, the instrumentation is fantastically gritty and in-your-face, but I've always felt that her songs would benefit by being shorter. So I was happy to see that the Flaming Lips lopped over forty seconds off of "Boys Wanna Be Her", and, in that shorter amount of time, use varied, textured production to makes your average Peaches song new and interesting. The gritty bass is still there, but the massive electronic drum beat and synth work in the background bring a sense of dynamics to the song that the original is lacking. This kind of new angle to Peaches' music is just what she needs to stay exciting and evade the slippery slope of gimmickry; hopefully, the producer of her next album will take a cue from the Flaming Lips.
7/10
2. Bonnie "Prince" Billy – Goodbye Old Stepstone [
Download
]
Will Oldham recorded this version of "Goodbye Old Stepstone", based on folk legend Bascomb Lamar Lunsford's version, at his Daytrotter Session. He's clearly in his element; the somber lyrics and simple acoustic guitar could have fit anywhere on 2003's "Master and Everyone", and actually outdoes much of the more folksy tracks in his back catalogue. "Goodbye Old Stepstone" provides a very clear way to link Oldham's own material to the old-time country and folk he's influenced by; when listening to the track, it's easy to see that his arrangements and lyrics share much in common with traditional songs. It's Oldham stripped down to his most basic elements, a tribute to his own raw talent as well as that of the many artists that came before him.
7.5/10
3. Califone – The Orchids [
Download
]
Strange that the standout track on Califone's new album, "Roots and Crowns", should be a cover. But unless you were familiar with Pyschic TV or someone told you ahead of time, you could never tell—Califone does a phenomenal job making "The Orchids" its own. Tim Rutili's vocals blend perfectly with the simple, descending guitar riff, and the subtle, experimental breaks between verses blend in seamlessly. And then there's the sublime, heartfelt chorus—"And in the morning after night / I fell in the love with the light." In Califone's hands, the track is warm, inviting, and something you should not miss out on. Gorgeous, gorgeous, gorgeous.
8.5/10
- Dominick Duhamel -
Tags:
Peaches
,
Flaming Lips
,
Bonnie "Prince" Billy
,
Califone
,
mp3