Album Review: Jay-Z (Part 1)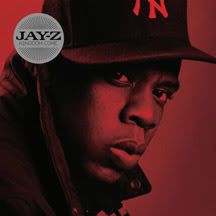 "Kingdom Come"
Roc-a-Fella/Def Jam; 2006
4.5/10
There's something that was written in the New York Times (that was later reiterated in a Cokemachineglow track review) that was so spot-on I couldn't resist repeating it here. It's the dichotomy between rappers Jay-Z and Diddy. Up until this year their differences were crystal clear; Jay-Z was the one with the mad flow and three of the best hip-hop albums of all time to his credit and Diddy was the one who discovered Biggie Smalls and started his own line of clothing. But what NY Times writer Kelefa Sanneh asserts is that, in light of their new albums, their role is reversed: Jay-Z is looking to transcend his "god of rap" label and establish himself as an entrepreneur and Diddy is doing his best to "rap" instead of make money.
Once you've realized the truth of these words, "Kingdom Come" suddenly becomes this strange, paradoxical entity. We all knew Hova wouldn't be "retired" for long; judging by some of the rhymes on "The Black Album" and various cameos since then, it was nothing if not logical that Jay would be back soon enough. And, as was also to be expected, the album is full of Jay-Z's "check me out I'm the motherfucking Genghis Khan of hip-hop's Mongolia" verses, constantly reasserting his own status as a legend, a rags-to-riches-through-rap story that's impressive, to be sure, but nothing we haven't heard before.
And that's where our expectations stop being met. For some who once spit "there's never been a nigga this good for this long", it's hard to believe what his flow's been reduced to. "Kingdom Come" is riddled with forced and stale rhymes; they're choppy and unfocused, never getting enough momentum to do anything but build anticipation for a payoff that never actually arrives. I'm not going to pretend like it's all bad, because it's not; there's moments where the old Jay shines through, busting some fresh material on "Do U Wanna Ride" and "Trouble". But even then, if those verses were on "The Blueprint", they would be the low points.
As Jay showed us on "The Black Album", if we can't depend fully on his flow, we can depend on his beats. If Hov can do anything, he can recruit a shitload of A-list producers that'll lay out a potluck of smooth samples and fresh rhythms, and "Kingdom Come" is no exception: we got Just Blaze, Dre, The Neptunes, Kanye West, Chris Martin (WTF??!!), Swiss Beatz, blah blah blah, but it's just what it should be. It's not that it's weak, it's just entirely forgettable. "Show Me What You Got" sounds good for the first couple spins, but after that it starts to sound hackneyed and convoluted. "Anything" and "Hollywood" sound quite simply like they should not be on a rap album; they'd fit better on a r&b album. And then there's the downright wankery of Mr. Martin's track, all reverbed and epic but so flaccid and uninspired that you wonder who let him in the studio in the first place. That sonofabitch needs to be choked.
Oh, and we musn't forget about the ten million guests on "Kingdom Come": Chrisette Michelle, John Legend, Usher, Pharrell, Beyonce, Sterling Simms, Ne-Yo, Chris Martin… and here's where the NY Times thing really clicks: half these people should not be on a hip-hop album, least of all a Jay-Z album. It's a power play is what it is; it's Hova saying, "Hey, check out all the famous people I can get on the album, all the famous producers I can get in the studio, and all the things I've accomplished." And yeah, it's impressive. But all that is impressive without listening to the album; it's independent from "Kingdom Come" entirely. No one doubts Jay's pull. If he told us he could get John Legend in the studio, we would've believed him. But all the actual material on "Kingdom Come", for the first time, makes us question if he really deserves all those people giving him props. His past says he does deserve it, but the new album says otherwise. It says he's become someone capable of consolidating musicians and producers and styles and time periods into one album, but someone incapable of delivering the goods himself. It's self-parody, going from "these famous people respect me for what I've accomplished" to "I'm accomplished because these famous people work with me". And it's not convincing. Good for Jay, he's got high-class friends, but he needs to be more than just the company he keeps.
"Kingdom Come" is Jay-Z the entrepreneur extolling the virtues of Jay-Z the 32-year-old and inadvertently lamenting the downhill slope of Jay-Z the rapper. And, to be honest, I miss the days Shawn Carter rapped that he was the best and I listened because he was right. Young Hov, rest in peace. Old Hov, maybe give Bruce Willis a call. I hear he and Diddy had a falling out.
Since the album is not being released until tomorrow, we're not going to post free tracks for download until Wednesday, during the second part of our "Kingdom Come" review. Until then, you can check out the video for "Show Me What You Got" right here.- Dominick Duhamel -
Tags:
Jay-Z
,
Kingdom Come
,
Hov
,
Diddy
,
mp3