Track Reviews: The Good the Bad & the Queen, Grinderman, The Blow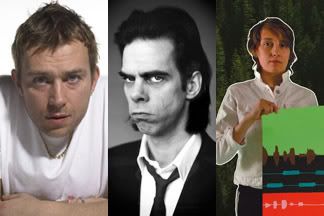 In keeping with the "almost end-of-the-year track reviews of bands we haven't covered yet but probably should because they are either good, bad, or disappointing or what not humdinger roundup fun time (phew)", here's some more.
1. The Good the Bad & the Queen – Herculean [
Listen
]
Ahhh, how refreshing, a "supergroup" (barf) of sorts that doesn't reek of total bullshit. Comprised of Damon Albarn, Paul Simonon, Simon Tong, and Tony Allen, the band's first single, "Herculean", sounds not unlike Damon's cartoon hip-hop day job the Gorillaz with the legendary Africa 70 drummer Tony Allen keeping the beat instead of some giant monkey thing. I was never a big Blur fan, though I am starting to come around, but damn it if Mr. Albarn doesn't know his way around a gorgeous pop song. He's still able to keep lines like, "It's bigger than you and the welfare state / and we'll keep singing, it's not too late / for you," from sounding forced or preachy, even if it's been quite some time since he's thought much about welfare. It's his megaphone vocals paired with a litany of background strings and various oohs and ahhs that prevent the song from sounding anything like antiquated rockers trying to keep up. Instead the band sounds like Brit Pop frontrunners at the top of their game. Each of the players sounds enlivened by the new surroundings and, if this song is any indication of what the rest of the album is like, then TGTBATQ is a debut worth waiting for. The rest of the single leaves something to be desired, but most of that is due to the fact that they lack the vocal stylings of Mr. Blur himself. This review might be a bit undependable due to the fact that I have temporarily misplaced my copy of the band's already out-of-print first single and have resorted to watching a blurry YouTube video on repeat, but fuck it. If the album version is substantially different I'll buy you all sodas. (Idiot Note: you can actually stream the song off the band's website. A detective, I am not.)
7.5/10
2. Grinderman – No Pussy Blues [
Listen
]
Nick Cave is my favorite musical artist of all time. Sorry Johnny Cash. My apologies Ray Charles, but it's the truth. There. It's been said. He could record himself kicking babies in a nursery and I'd probably give it at least a 7. So in all fairness (and in even more laziness) I'm not even going to attempt a review. It's Nick Cave singing about sex, masturbation, violence and how he's not getting any. Come on.
8/10
3. The Blow – True Affection [
Download
]
My favorite song off The Blow's most recent album, "Paper Television", has changed at least 4 times since I purchased the little devil. At first it was the obvious choice, "Parenthesis", with all its "Boyfriends Back" aping and too-cute-for-its-own-good chorus ("When you're holding me / we make a pair of parenthesis.") Then I moved on to the snare rattling of "The Long List of Girls", but the title simply became too awkward to sing along with when my car windows are down, which they often are. After a brief stop at "Babay," I've finally settled on "True Affection," and I feel like this one is sticking. No promises. Based on the fact that fans convinced the band to stream "True Affection" from their website over the rest of the album, at least I know I'm in good company. I've even gone as far as convincing other people that their favorite song off the album isn't what they think it is and is, in fact, "True Affection." Basically, I'm a fan. The finger snap percussion alone makes the song worth mentioning, but the lyrics are what make it remarkable. Lines like, "You'd surface face first and we'd share our thought bubbles / and I still believe in the phrases that we breathed" have a way of reaffirming your trust in not only pop music, but in humanity. "True Affection" is a track that you fall asleep to, hoping that its essence somehow finds its way into your head and takes up residence there. The real lynchpin of the song rests in its second verse, which I will now painstakingly copy, and paste in its entirety. "Your depths made a pressure / that punctured my works / and all your fluids couldn't tolerate / the force of my thirst / I love the place where / we shared our tiny grace / but because it's real doesn't mean it's gonna work." The juxtaposition of such unhinged passion and stubborn fear is what raises this song from pretty to poignant. Maybe it's due to the fact that the song speaks directly to a personal situation I'm involved with that makes me consider it so moving, or maybe it is truly that good. Whatever the case, this is the rare kind of song that has the ability to brighten up a fairly dreary autumn and warm you through winter. Ridiculous? Yes. But it's late, and that's what you're getting.
9/10
- Matt Lindsay -
Related Tags:
Good the Bad and the Queen
,
Grinderman
,
The Blow
,
mp3