Track Review: Beirut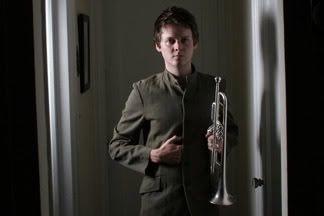 "Elephant Gun"
from "Lon Gisland EP"
8/10
Zach Condon knows that his audience is still so charmed by "The Gulag Orkestar" that changing things up would not only be unexpected, but it would be disappointing. So he's is doing what any confident twenty-year-old indie troubadour would do in his place: the same thing he's been doing for the last year and damn well, too.
"Elephant Gun" is signature Beirut: it kicks off with a churning uke accompanied by Condon's imminent, classic voice and, just before the song's nostalgia becomes almost too much to handle, other instruments come shuffling through the door: first an accordion, then a drum kit, then some distant horns, and then some percussive filler.
Though the track still screams of Condon's Balkan influences, his palate seems to be secretly expanding to other areas of the world. It's almost unnoticeable at first, but hiding somewhere between the horn embellishments and the accordion rhythm, behind that irresistible 3/4 swoon, is the flavor of the Loire, threatened by the evening fog and echoing with the clacks of wooden shoes on cobblestone.
Lyrically, Condon sticks too his guns, reminiscing about youth (though in his case, it's not quite "reminiscing" is it?), the passing seasons, and the bygone years of the fictional, European version of his life. The first line, however, is actually quite arresting ("If I was young I'd flee this town / I'd bed my dreams underground / as did I, we drink to die / we drink tonight / far from home, elephant guns / we take them down, one by one"), showing a surprising growth from the warm but often banal verse of "The Gulag Orkestar".
Though "Elephant Gun" lacks the brass punch of other memorable Beirut tracks, it makes up for it in developing maturity and smooth, apparently effortless songwriting. The song itself stretches to nearly six minutes, the last two comprised mostly of a repeating accordion line, and it's here that we find the only significant difference between "Elephant Gun" and Beirut's earlier work: Condon seems to be aware of the nostalgia and international allure his music abounds in and is finally putting them to work for his benefit, giving his yearning listeners just a little bit more before he goes, just one more drinking song before he calls it a night.
Download:
Beirut -
Elephant Gun
- Dominick Duhamel -
Tags:
Beirut
,
Lon Gisland
,
Elephant Gun
,
Zach Condon
,
mp3