Preview: Sunday at Coachella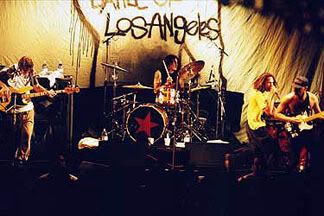 The final installment, for Coachella's final and most anticipated day. Tickets for Sunday are going for over three hundred dollars each on eBay; there are some great acts playing, but it's up to you to decide if it's worth totally emptying your wallet. Be sure to check out Part 1 and Part 2 of our Coachella coverage.
Rage Against the Machine
-
Maria [mp3]
I probably don't need to tell you about this one, their "one and only" reunion show. We all know that's not true. As soon as Coachella is done, RATM will probably have a slew of new tour dates for us and plans to do another album that will probably suck. But there's still a chance that this will be the only chance to see them and, politically speaking, the moment couldn't be more ripe. Zach de la Rocha's gonna have alot to say, that's for sure. And then maybe he'll play some of the music that defined our earlier years as music fanatics.
Manu Chao
-
Mentira [mp3]
Probably the best French Latin folk singer I know of. In fact, probably the only. Regardless, Manu Chao is freakin' sweet. Some of you may also know him from his apperance and production on Amadou and Mariam's last album, "Dimance À Bamako". Fluid, cheeky, and French. I'm going to go ahead and call him the Tom Waits of the Basque people. Interpret that as you will.
The Roots
-
Don't Feel Right [mp3]
Black Thought and ?uestlove are back with a vengeance. "Game Theory" brought the boys back from obscurity. They're one of the hip-hop groups well-versed with performing live, especially since they actually play instruments. Plus ?uestlove has a sweet afro. Hell, I'm going just to have a look at it.
Explosions in the Sky
-
The Birth and Death of Day [mp3]
Post-rock is epic live. That's about all I have to say, other than EITS's new album is pretty fucking awesome. Perfect for an out-of-body experience.
Konono No. 1
-
Masikulu [mp3]
Likembés run through amplifier's made of car parts? Trance-like African beats infused with jazz and world influences? A percussion section made of junkyard relics? A group with at least fifteen members? How do you say no?
Lily Allen
-
Everything's Just Wonderful [mp3]
Whether you're going for her music, her cheeky lyrics, or her looks, you're going for the right reason. Lily's experienced a surprisingly small amount of backlash for the hype she got last year and I'm willing to bet that seeing her twirl around in one of those amazing airy dresses in the Coachella heat will be about as surreal as it gets.
Lupe Fiasco
-
The Cool [mp3]
The kid's new on the block with one of the best hip-hop albums of 2006 already under his belt and its an exciting point in his career to see him. Don't act like you don't know all the words to "Kick, Push". But don't worry—everyone else will know them too so, even if you're white, you can rap along if you want.
Grizzly Bear
-
On A Neck, On A Spit [mp3]
Don't be fooled by how they sound on their album, apparently Grizzly Bear can be pretty ferocious live. "Yellow House" was one of last year's musical highlights and these guys are more than worth the trouble of arriving early. I'm not even going to bother making a joke about them mauling your ears with sweet power-psych-folk.
- Dominick Duhamel -
Labels: Coachella, Grizzly Bear, Konono No. 1, Lily Allen, Lupe Fiasco, mp3