Preview: Saturday at Coachella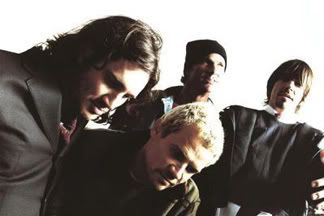 For those of you who just want to go to one day of Coachella, Saturday is the day. Just check out some of the great bands that are playing. Also, be sure to check out Part 1 of our three-part Coachella preview.
The Red Hot Chili Peppers
-
Mellowship Slinky in B Major [mp3]
I saw these guys over the summer and, for old dudes, they still put on a hell of a show. Reasons to go: one, they still play their old stuff live, two, John Frusciante is a ridiculous guitar player, and three, there's always the off chance that they come out wearing nothing but socks.
The Acrade Fire
-
Black Mirror [mp3]
Apparently these dudes were a highlight from a Coachella past and I've heard some murmurs among people I know claiming they're "one of the best live bands ever". I haven't seem them personally yet but I'm expecting a lot and I don't think I'll be let down. Also, some of the stuff off their new album is pretty ballin.
The Decemberists
-
Odalisque [mp3]
I'm one of the two people I know (out of like a hundred) who don't like the new album. If you're one of the ninety-eight, you can look forward to a bunch of lifeless, proggy bullshit or if you're like me you can look forward to some classic Decemberists songs. And, no matter what camp you're in, there won't be more clever stage banter at all of Coachella.
The Good, the Bad & the Queen
-
History Song [mp3]
Damon Albarn saves the world from more boring Britpop bullshit! Assembles what is possibly the best supergroup ever! Releases dynamite album! Takes Coachella by storm! Teaches all those British youngsters that you don't have to sound like the Beatles to be good!
Blonde Redhead
-
Misery Is A Butterfly [mp3]
I hadn't heard any of Blonde Redhead's music until I saw them last fall at the L.A. Weekly Detour Festival and not only do they put on a great live show, but they sound pretty great on record as well. The trio has a strange, vague allure about them and, mixed with the nearly-hallucinogenic Coachella heat, I'm willing to bet something pretty fantastic is going to take place. Be there.
The Black Keys
-
Strange Desire [mp3]
Can anyone say best garage band blues-rock duo ever? Plus, the last time I saw Dan Auerbach, he had a beard. The man's pretty convincing when he has a beard, let me tell you.
Peter Bjorn & John
-
Let's Call It Off [mp3]
Sweden takes over America! Broadcasts sweet melodies and superb songwriting skills across Indio Polo Fields in the middle of nowhere! Connives Dominick into writing a second newspaper-headline-style summary in one post! Damn!
Ghostface Killah
-
R.A.G.U. (Feat. Raekwon) [mp3]
If you haven't been listening to Ghostface, you're wrong. I have my fingers crossed that Amy Winehouse (who sings on one of the songs on "More Fish" and is performing at Coachella on Friday) will come onstage with him. Wouldn't that be something? Wouldn't it?
Andrew Bird
-
Heretics [mp3]
Other than the Jesus and Mary Chain, Andrew Bird is probably the artist I'm most excited about seeing. I'm not sure why he's one of the tiny names on the second to last line of Saturday. His new album is ace and was apparently an attempt to harness the energy of his live shows—if that's the case, it's gonna be some good shit. And a legitimate reason to get there early.
- Dominick Duhamel -
Labels: Andrew Bird, Coachella, Ghostface Killah, mp3, Peter Bjorn and John