Album Review: Sondre Lerche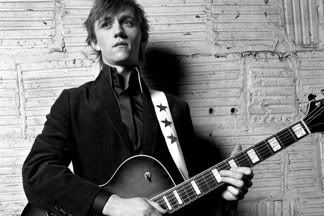 "Phantom Punch"
Astralwerks; 2007
8/10
Sondre Lerche is a man, not a band. That's what I find myself saying a lot of times when I introduce his music to others. It's an easy mistake though—I made it too. And how do you pronounce his name? I don't really know, and sadly
wikipedia
doesn't help either. It's one of the few times the site has let me down.
But what I do know is that Sondre Lerche and his band's (called The Faces Down) newest album, "Phantom Punch", is pretty amazing on several levels. A far cry from Sondre's previous album, the very jazzy "Duper Sessions", "Phantom Punch" is almost at the opposite side of the rock-jazz spectrum. It's full of raw, simple, almost primitive rocks songs, and all of them are extremely solid. There are the sweet melodies and neat motifs of "Airport Taxi Reception," the wonderful chorus of "Say It All" that knocks you right off balance, and the very cool disco waltz-iness of the title track.
What's especially nice is that, even though Sondre was going for a much grittier, rawer sound, he still kept his pristine vocals. If he had dirtied up the vocals a little bit, I can't see myself finding the album as pleasant. The vocals have been the one constant through the last couple of albums, and they are easily one of strongest qualities of each. "Tragic Mirror" and "After All," the two furthest stripped down version in their arrangements, prove my point and show how captivating Sondre's voice can be.
And almost equally as important is The Face Down's participation in the album. Since this is a full-blown rock album, the band can easily give themselves chances to shine, and they do. It seems like in every song there are neat little ideas that can't be described with anything less than awesome. The drum part during the solo of "The Tape" is just so sweet and very precise, while "After All" features great performances all around to create just a nice, balanced layer of music. And even though the title is easily one of the coolest, the triplets inserted into the verses of "John, Let Me Go" is what truly captured my attention. They may be minor details, but without them, these songs would lose a lot of memorability.
The only little downfalls here and there are only minor as well. The verse to "Well Well Well," don't have the same edge to them as all the other songs (though the chorus is great), and of course the lyrics can always use a little work. But considering English is not Sondre's primary language, I can't fault him for only-sometimes-clumsy lyrics (i.e. How do you conjugate yourself?)
Then, the album ends with the confusing ballad "Happy Birthday Girl". It's unlike the rest of the album is almost every way. For starters, its seven minute-plus song mark is about four minutes above the album average. Then there's the fact it's just plain awkward. I love it, it still contains great vocals and very nice build in tension, but I can't say it's for everyone. It features some just plain weird chords, progressions, and notes. Regardless of what one may think of that song, though, "Phantom Punch: is a very solid album. It's worth picking up, as it will certainly be stuck in you iPod/car for a good month, at least.
Download:
Sondre Lerche -
Say It All
Sondre Lerche -
Phantom Punch
Sondre Lerche -
John, Let Me Go
- John Higgins -
Labels: mp3, Sondre Lerche, The Faces Down