Album Review: Bonnie "Prince" Billy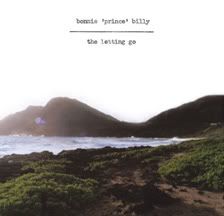 "The Letting Go"
Drag City; 2006
9/10Introduction
I'm sure that anyone familiar with the work of Will Oldham is sick of hearing of critics who are still awaiting the "follow-up" to Bonnie "Prince" Billy's masterpiece, 1999's "I See A Darkness". The fact is that these critics should go fuck themselves because: (a) "I See A Darkness" is a perfect album and expecting Oldham to produce something better is unreasonable and (b) Oldham does whatever he wants and I can guarantee the thought of making a follow-up to "I See A Darkness" hasn't even crossed his mind. His last few albums haven't done anything to quiet these bothersome critics either; his good-not-great minimalist folk left most fans still hungering for a dose of Oldham's humanity in all its raw glory. But finally, in the Year of Our Lord 2006, Mr. Oldham has left us with "The Letting Go", an album that is awe-inspiring in its own right and, I sincerely hope, enough to shut up ignorant critics for at least a couple months.
As I began to suggest in my
track review
of the album's first single, "Cursed Sleep", Bonnie "Prince" Billy's most recent effort is all about juxtaposition. The elements that have gone into this album are many, and the result of their interaction is part of what makes "The Letting Go" so profound.
Love vs. Sex/Death/Sadness
The many forms of love have always had a significant role in Oldham's work. One of Oldham's stranger themes, and the one most unique to his lyrics, is the relationship between love and sex. As with any of his albums, erotic and suggestive verses are snuck throughout, often times in unsettling places. The ragtime blues of "Cold and Wet" ends with the line, "When things, they get too warm / make them a little wet," while on "Cursed Sleep", Oldham croons, "I dreamed of her inside of me." The final thirty seconds of the story-song title track contains the surreal verse, "In the quiet of the day / I laid her low / and used her skin as my skin / to go out in the snow."
Death plays another interesting concept against which to measure love. The album begins with the haunting first line, "When the number gets so high / of the dead flying through the sky / oh, I don't know why / love comes to me." On the track that follows, "Strange Form of Life", he sings, "Across the nation / you found myself racing / forgetting the slayings." The entirety of "No Bad News" dwells on the subject of death, its chorus declaring, "Something bad happens / and a lot of people go bad themselves / that's how awful it is / turning half the heart / into something hard and dark."
Sadness, too, plays a role, as it does in so much of Oldham's work. His woeful vocal delivery aside, the lyrics never stray far from a partially gloomy outlook. "From what I know / you're terrified / you have a mistrust / running through you / your smile is hiding / something hurtful," he sings on "Lay and Love". He laments the loss of his friend in the title track during the verse, "Then one December / bad weather came on / I went to our shared place / and nobody came / and it was dark / before I made my way home." Again on "Cursed Sleep", Oldham sings that, "I slept sweetly unpretending / that the night was always ending."
But despite these strange and gloomy themes that appear throughout, love remains the centerpiece and counterpoint to all else. The album opener contrasts verses telling of despair and loss with a chorus of, "Love comes to me." "Lay and Love" is a tribute to a lover in all her humanity, responding to both her strengths and weakness with, "It makes me lay and love you." Later on the album, Oldham sings, "Love found us easily / and if that's all we have / you will find / we need nothing more." Love is clearly the stronger theme throughout, though the continued presence of sex, death, and sadness provide a context in which the true meaning of love comes to light. In a sense, the themes affirm that love is but a part, albeit an important one, of a variety of emotions and circumstances that make up human existence, and a firm foundation upon which to endure whatever may present itself as a challenge.
Oldham vs. McCarthy
From the very start, the interplay of Oldham's vocals and Dawn McCarthy's harmonies is the thing that makes "The Letting Go" stand out from Oldham's other work. Oldham has always had a voice deeply rooted in loose and flawed delivery, his southern drawl perfect for his own purposes but hardly crystal clear and entirely controlled. McCarthy, on the other hand, never misses a note, her voice remaining consistently pitch perfect and otherworldly. Oldham's voice remains the anchor for much of the tracks, often taking verses unaccompanied and allowing his characteristic wail to be heard elsewhere. In several cases, however, McCarthy's breathtaking harmonies overtake Oldham's melodies, making his parts secondary and somewhat less memorable. When McCarthy sings the verses on "Strange Form of Life", when she changes the harmony to a minor at the end of "Lay and Love", and for the entirety of "No Bad News", Oldham is shifted the backburner, a first for someone who is rarely harmonized by anyone other than himself. There's no sense of Oldham being less important, however; as he remains the focus of the majority of the material, McCarthy's occasional possession of the spotlight serves the songs beautifully. Each time Oldham takes a step back, the transition from somber humanity to heavenly melody demands attention and brings to light the constant shift from strain and sadness to hope and beauty both on the album and in the perspective of the listener. McCarthy's presence gives Oldham's vocals a whole new meaning, bringing the focus away from the morose introspection and instead highlighting the ephemeral nature of human emotion, bouncing from pessimism and desperation to truth and wonder. The interaction of the two singers not only yields some truly gorgeous and interesting melodies, but musically reinforces the struggles and contradictions expressed in the lyrics.
Orchestral vs. Folksy
Another of the instantly noticeable departures from Bonnie "Prince Billy form is the string arrangements permeating almost half the album's tracks, courtesy of Björk-producer Valgeir Sigurdsson. The fusion of Oldham's traditional southern low-fi rock and the sweeping strings, contrary to some expectations, work together much better than ever could be expected. In addition to contributing to the album's stellar dynamics and providing a new angle to the drums-guitar-bass setup, the strings' most significant contribution is the sense of space within the songs. The songs that include such arrangements have a sort of openness to them, calling easily to mind images of barren expanses, hollow chambers, and natural wonder. In contrast to these tracks, those without string arrangements have more of a folk element to them, remaining simple and intimate and centering more on the words and melodies than rendering images through music. The contrast between these two types of songs, as well as the effect of alternating between them, serves the album fantastically, bringing the listener from a mental landscape to a moment of simple and truthful emotion and back again. Such shifts allow the listener to experience Oldham's music as both introspective and revelatory, something that comes from within, whose source is basic human needs and emotions, as well as something that is experienced from without, filtered through perception and associated with images readily available in the mind.
Album Opener vs. Album Closer
When comparing the album's first and last tracks, the differences are immediately apparent: the first, "Love Comes to Me" is a well-arranged song, tightly delivered and melodically conventional while the last, "Untitled" seems shoddily pasted together, several elements all out of time and using some strange effects, though it does provide for an interesting listen. If you look at the album as a whole, however, you can see that the transition from the first to last track takes place on a greater scale. The first five songs (four of which are focused a bit more on the orchestral) are the tightest and most traditionally arranged. The following three tracks all stray from this pattern, however: one of the guitars on "Cold and Wet" sounds as if its straining to get out of the amp, clicking and ringing inconsistently; on "Big Friday", the duel acoustic guitars are slightly out of time, as are the vocals; there's also a strange effected drum kit beneath the mix in "Lay and Love". (As a side note, these three middle songs happen to be the weakest on the album and, while two of them still serve the greater good, only "Big Friday", ironically the exact middle track of the album, could be done without.) The last five songs get even stranger. "Then the Letting Go" is all call-and-response, with no identifiable chorus. "God's Small Song" is home to a strange wailing sound and a crescendo of trembling dissonant guitars. In fact, it seems the whole album shifts from the conventional and the traditionally arranged to the strange and uniquely collaged. This gradual destruction of form and the abandonment of tightly interlocked song elements parallel the breaking down of the world's illusion of coherence and understandability into bits and pieces that don't quite fit together. There's a vague pattern, connection, and meaning, to be sure—but as the album progresses it becomes clear that it's arranged in a way that represents the transformation of sure-footed steps into a sort of aimless wandering, for better or for worse.
Conclusion
I'm sure that, so far, this essay-like review has made me seem a pretentious, over-analytical, and generally uptight critic, putting astronomical weight on something that's really just supposed to be music. And while hyperbole is par for the course in my average literary endeavor, it has its foundation in truth. Bonnie "Prince" Billy was never music for the casual listener, for the light of heart, or for the impatient. Bonnie "Prince" Billy's music was always more woven into the fabric of reality than painted atop it, embracing the struggles of everyday life. And "The Letting Go" does this fantastically well. Here we have love as foolish but all-encompassing, sadness as a necessary evil, the conflict between hope/beauty and desperation/humanity, the problem of reality being both internal and external, and the desire to sort out the ill-fitting puzzle pieces of human existence. For those who listen to music to escape the pressures and sadness of life, this album is not for you. For those who want to embrace life with all its pains and flaws, there is no listen more refreshing than the work of Will Oldham, of which "The Letting Go" is among the best, and quite certainly the best since… well, you know where I'm going with this.
Watch:
Bonnie "Prince" Billy -
Cursed Sleep [Music Video]
Quick Update: Oldham performed a stripped down (and breathtaking) version of "The Seedling" from "The Letting Go" during his Daytrotter Session, which you can download here.- Dominick Duhamel -
Tags:
Bonnie "Prince" Billy
,
The Letting Go
,
Will Oldham
,
mp3