Mixtape: Artists On My iTunes That Start With "B"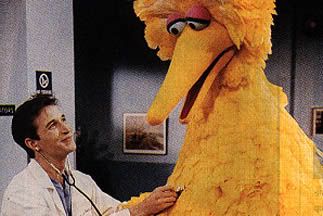 1. Bob Dylan – Bob Dylan's 115th Dream [
Download
]
2. Barenaked Ladies – When I Fall
The Barenaked Ladies are one of the most underrated bands in pop/rock music. It took me months to figure out this song was about a window washer: "I look like a painter behind all the grease/ But painting's creating, and I'm just erasing/ A crystal-clear canvas is my masterpiece." Please listen to this whole live album (Rock Spectacle) if you can, and forget you ever heard "One Week".
3. Butthole Surfers – Pepper
4. The Beatles – Eleanor Rigby
This song feels like it could have been written yesterday. The anxious orchestration and tragic lyrics are, in my opinion, some of the most powerful that the Beatles ever recorded.
5. The Beatles – She's Leaving Home
I had to put them on here again. It took me until I was in college to get this one. Teen angst at its finest.
6. Ben Folds Five – Eddie Walker
7. Beck – Nitemare Hippy Girl
This song is roughly recorded and monotonous, but the words are so incredibly amazing: "She's got a thousand lonely husbands/ She's playing footsies in another dimension". This is definitely THE best character portrait I've ever heard in a song.
8. Broken Social Scene – Anthems for a Seventeen-Year-Old Girl [
Download
]
9. Bright Eyes – You Will. You? Will. You? Will. You? Will. [
Download
]
"You said, 'Go explore those other women, the geography of their bodies/ But there's just one map you'll need/ You're a boomerang you'll see/ You will return to me'". Love him or hate him, Conner Oberst is an incredible lyricist. However, what makes this song so amazing to me is the movement in it. Before the tempo change, you can actually hear him walking closer to the mic as his voice becomes clearer. I put this song on repeat.
10. Buddy Holly – Not Fade Away
- Stacey Capoot -
Previous Mixtapes:
Murder Ballads
,
An Acoustic Evening
Tags:
Mixtape
,
The Beatles
,
Bob Dylan
,
mp3