Track Review: Dr. Dog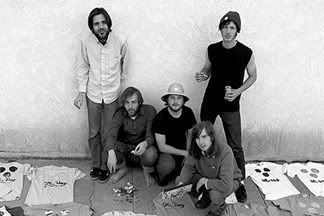 "Ain't It Strange"
from "Takers & Leavers" EP
7.5/10
Some of you may be familiar with my fascination with a little-known band from Philadelphia. Their music is deceptively simple, but after a few listens, it's clear that Dr. Dog has built upon, not merely ripped off, classic rock, especially concerning their love of augmented and suspended chords and their unexpected arrangements. Last week they released "Ain't It Strange" online, a new song from their upcoming EP "Takers and Leavers," to be released September 12.
It starts with a Brian Wilson bass line over washed out piano and a mellow 4/4 groove. The chorus sounds like an early 60's pop song, and bass player Tables – who takes lead vocals on this song – is supported by warm, early 60's Motown backup vocals, a testament to their low recording budget and dedication to reel-to-reel recording and 8-tracks. Members of the Dog have been recording this way since middle school, so why change a good thing? If anything, they are forced to be more creative with less equipment, even when the technology is so cheap, available, and tempting. That's exactly what makes their music so impressive next to so many other bands today. No flashy production or pitch adjusters here; just unexpected melodies, tight harmonies, and unexpected breakdowns. Oh yea, and some great fucking reverse tape loops.
As with many Dr. Dog tunes, the verse is catchier than the chorus. Two thirds through, a guitar hits a few low, overdriven notes and the piano builds tension. To release the tension, they somehow disintegrate into an a capella breakdown for a few bars until the band returns for a climactic breakdown at the end, complete with huge panning echoed vocals and tape loops. The triplet bass sets the groove here, and the simple but effective guitar lines and vocal "ahhhs" color the groove and end on a figurative high note.
"Ain't It Strange" would have fit well on last year's "Easy Beat," but it's unique, like all Dr. Dog songs. They have a habit of bringing in something completely unexpected and enthralling, and making it work. And again, they don't disappoint. If you don't like it the first time, listen again. If you don't like it then, listen to it again in a week. If you still hate the song, bang your head on the wall four times and email me. We'll talk. Thanks.
You can download "Ain't It Strange" for free here.- Austin Bauer -
Tags:
Dr. Dog
,
Ain't It Strange
,
Takers and Leavers
,
mp3