Mixtape: An Acoustic Evening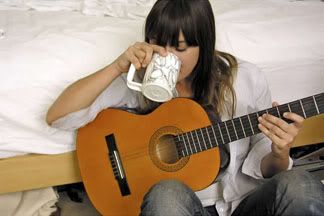 This mix is for the kind of evening when you're feeling introspective and perhaps a little lonely, when you'd prefer the intimate company of acoustic songs to the works of amplified bands. In the following songs there are only two instruments: acoustic guitar and vocals.
1. Iron & Wine – The Trapeze Swinger
The extended version of "The Trapeze Swinger", which first appeared on the soundtrack of "In Good Company" and then later on Iron & Wine's iTunes "Live EP", is a tremendous song, Beam's picking slowly building as he laments the loss of innocence and true love. Though it's among the more accessible and mainstream-oriented of Iron & Wine's catalogue, the song is still a powerful testament to Beam's ability to craft a lovesick piece of art.
2. Josephine Foster – Trees Lay By [
Download
]
The eccentric Josephine Foster in one of her better folksy tunes, her warble rising and falling gracefully while seamlessly painting images of nature.
3. Weezer – Jaime (Live Acoustic)
One of the songs on the bonus disc of "The Blue Album Deluxe Edition", this song is a tribute to the days when Weezer was still a force to be reckoned with. Check out the three-part vocal melodies—they're sublime.
4. Jack Rose – Mountaintop Lamento
This track is a twelve-minute journey across the possibilities of an acoustic guitar. There are no vocals, simply Jack Rose's deft fingerpicking building slowly into a downpour of acoustic guitar before gently abating.
5. The Decemberists – Of Angels and Angles
The moving closer to 2005's fantastic "Picaresque", this track is a quiet tribute to the beauty of a woman and all her intricacies.
6. Neutral Milk Hotel – Two-Headed Boy Part 1
One of my favorites off "In the Aeroplane Over the Sea", this track is Jeff Mangum at his most urgent, his voice straining to keep up with his churning guitar, all of which betray the frustration and panic that made the frontman of Neutral Milk Hotel one of the greatest and most tormented musicians of all time.
7. Cat Power – Willie Deadwilder
The centerpiece of this mixtape, Cat Power's "Willie Deadwilder" is an eighteen-minute ballad with M. Ward on guitar. Simply put, this song sounds like a super long M. Ward song with Cat Power singing in his place. The result, however, is fantastic, combining Ward's expert guitar work, Chan Marshall's beyond gorgeous voice, and their joint ability to tell a love story.
8. Palace Brothers – You Will Miss Me When I Burn [
Download
]
Back when Will Oldham still went by the moniker "Palace Brothers" and had only one full album under his belt, he released "Days in the Wake", which opened with this track, an absolutely devastating dirge featuring Oldham at his most fragile as he sings over and over, "When you have no one / no one can hurt you."
9. Ray LaMontange – Burn
LaMontagne's voice is made of solid gold, and it never stands out more than this track from "Trouble". Another song of lovesickness, with truly brilliant dynamics.
10. Nirvana – You Know You're Right (Solo Acoustic)
The thundering finish to Nirvana's "With the Lights Out" box set is this low-fi version of "You Know You're Right", Cobain's voice wailing and cracking, graceful and perfect. We miss you, Kurt.
11. Radiohead – True Love Waits [
Download
]
This track was written around the time of OK Computer but not released until 2001 on the "I Might Be Wrong: Live Recordings" EP. It is Thom Yorke's sad plea for his lover to stay, fueled by a fairly simple guitar part and memorable lyrics like, "true love waits / in haunted attics / and true love lives / on lollipops and crisps" and, "I'm not living / I'm just killing time". His vocals at the end are heart-wrenching, as he sings with what seems to be all of his might, "Don't leave, just don't leave."- Dominick Duhamel -
Previous Mixtapes:
Murder Ballads
Tags:
Acoustic
,
Mixtape
,
mp3