Live: Mates of State, Spoon, Death Cab 8/11/06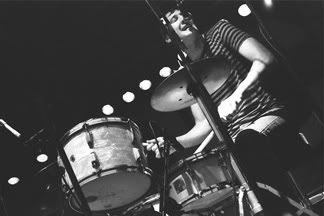 I've been in Berkeley many times this summer for concerts. It started with Radiohead at the Greek Theater in July (fucking amazing, I say). Then, I didn't look at the tickets correctly, mistakenly went to the Greek Theater, and later found myself over to the Community Theater for Ben Lee and Say Anything (…yeah, and Dashboard Confessional was there too to cheese up the whole night). Last Friday, I once again went to the Greek Theater, and this time I was right about the venue. And had the pleasure of watching three awesome bands all on the same night.
The day started off with the San Francisco couple Kori Gardner and Jason Hammel, better known as Mates of State. The last time I saw them they were opening for Taking Back Sunday and Jimmy Eat World in Oakland. It was a tour in which they didn't quite fit in and got a pretty nasty response from many audiences. It was particularly sad to watch them perform such sweet sounding, happy music and to see the asshole right in front of me yelling at them to get off the stage and calling them names. I really think everybody should fall in love with this band. Because, honestly, how can you hate happiness?
So fortunately, this time around Mates of State fit in just find alongside Spoon and Death Cab for Cutie. It was pretty clear that most of the people in the crowd and those still coming in had no idea who they were, but all of the songs were very well received. Kori and Jason came on stage, said a quick hello, and immediately started playing "Think Long," the first track off their new album "Bring It Back".
Actually, the majority of Mates of State's set was from the new album. The only two songs not from it were "Ha Ha" and "Goods (All In Your Hands)." Overall, though, it was an awesome set and a great way to promote the new album. Even though Kori dabbled with a huge number of keyboard sounds on the new songs, she recreated the sound almost exactly. Jason, too, did an amazing job drumming his heart out and keeping his voice harmonized with Kori's. The vocals were just great from song to song; they were always bright, and always cheerful.
The two also had a special treat for the crowd in the middle of "Like U Crazy." Not only is the song one of my favorites, but in the middle atmosphere-y part, Kori and Jason started getting into a new groove. Right in the middle of their own song, they started covering Gnarls Barkeley's "Crazy," and pretty well too. The vocals were on, the keyboard part was quite nice, and that annoying bassline was missing. Then, after a verse there, a chorus here, and a little drum break section, the pair continue on with their song. Sadly, they had to leave before they got to their last song because of time, but I'll hope they were meaning to save "Running Out" for last.
Then, after another half hour or so of waiting, Spoon came on stage to start the show. Now, I enjoy Spoon and all, but I sadly have no idea what any of most of their songs are called. I just know I have Gimmie Fiction and that it's a great CD. Soooooo, yeah. All I really know is that Spoon played quite a cool set. It was pretty different from Mates of State's cheeriness and pop melodies; the band was much more concerned about setting and developing a strong groove in each and every song. Maybe too concerned, as it appeared the band was too interested in playing for themselves than performing for the crowd.
Regardless, I felt all of the songs were strong, and now I kind of wish I knew what songs they played. But I do know they played "I Turn My Camera On" and "My Mathematical Mind." Those are the only two songs I can recognize, and they played them quite well. They actually closed their set with the latter, and ended the song with a kind off jazzy, but mostly spastic guitar solo. It was pretty funny to watch, and it almost looked like he was going to throw is guitar into amp or something (kind of like what Omar from Mars Volta did, but with no
urine
involved).
And then the night ended off with Death Cab for Cutie. Ben Gibbard and Chris Walla came onstage by themselves to open with "Passenger Seat," as the crowd slowly anticipated the coming of the rest of the band. As soon as "Passenger Seat" was about to end, "Different Names for the Same Thing" began and the rest of the group walked onto the stage to get ready. And this song may have been the highest point of their set; they played it great. The entire second half of the song had so much energy that the crowd (and various drunk girls that were around me) got all giddy with excitement. As Nick Harmer was having fun jumping around and grooving pretty well, Jason McGerr jammed away on the drums flawlessly, catching figures and playing neat fills along the way. Compared to the very straightforward and tame recording of the song, this sounded very jam worthy.
Throughout the night, the band played songs from all their albums, but it seemed to me that "Transatlanticism" got the most attention. Though, a good number of "Photo Album" and "Plans" songs were played, and even one was played from "We Have the Facts and We're Voting Yes". Highlights of the night included that awesome drum groove in "What Sarah Said" (but not hearing everyone in the theater shout out that lyric in the quiet part), and watching Kori and Jason return to play with the band during the climax of "Transatlanticism."
Also, Ben Gibbard completely surprised me as the band played "We Looked Like Giants." During the whole groove in the end of the song, Gibbard started spazzing out on the guitar and the electric pads in from of him (that he used for "Title and Registration"). But, as he was hitting the pads with reckless abandon (but with no sound, because someone forgot to turn them on), some guys starting coming on stage setting up a small drum kit. Then, Ben went to drums, got situated, motioned to Jason, and the two started busting out a drum duet. It was set up pretty nicely: a good, solid groove for a few measures, then Jason solos for a few measures, then groove again, then Ben solos. Then the guys had some fun with it, busting out big loud riffs with giant, unnecessary arm movements. But it was fun to watch, and it was kind of cool realizing that Ben Gibbard can actually play. Really, if he wanted to, he could drum for a band somewhere. He's not as good as Jason, but it was still impressive.
However, the band's song choice in the encore was quite odd. Having already closed the main set with "Transatlanticism," it already felt odd the band needed to play anymore. Then Ben Gibbard came on stage by himself, obviously to play "I Will Follow You Into the Dark." Now, if any song can follow "Transatlanticism," it's that…but then the band showed up afterward. They continued playing songs, even though they played the (arguably) two best songs from their catalog. And not only that, the songs that followed paled in the comparison to those two. The cover of The Sonics "I Wanna Go Home" (I believe that's what it's called) was just weird, and no one knew the song or caught on to it. And to close the encore with "Marching Bands of Manhattan"? Just weird if you ask me.
And then the sound guy was just a little off all night. It's been done much better in past shows at the Greek too, so I was surprised. The bass end of Kori's keyboard were way too low, the vocal mics for Mates of State and Spoon were too low, and Death Cab's sound was just too soft. But hey, I can't complain too much. I got to see one of my favorite albums of the year so far performed live ("Bring It Back", if you wondering).
Mates of State Setlist:
1) Think Long
2) Fraud in the 80s
3) Ha Ha
4) Goods (All in Your Hands)
5) For the Actor
6) Like U Crazy
7) Beautiful Dreamer
Download:
Mates of State -
Like U Crazy
Spoon -
My Mathematical Mind
Death Cab For Cutie -
We Looked Like Giants
- John Higgins -
Tags:
Mates of State
,
Spoon
,
Death Cab
,
live
,
mp3