Artist Profile: Wages of War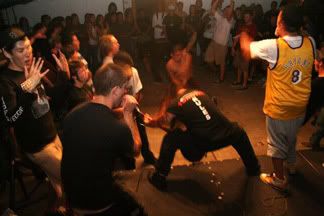 I've always been wary of hardcore music, mostly because there are so many bad hardcore bands out there and its something that teenage boys, especially in southern California, easily get sucked into. So when my friend invited me to go with him to a Wages of War show, I agreed with a certain degree of skepticism.
Part of the reason I agreed to go was that, over the years, I had learned that, while there are very few instances I feel like listening to hardcore music on my stereo or iPod, the hardcore live experience is infinitely different. In my humble opinion, the best part of hardcore music is the insane energy of the live shows, an energy that almost never transfers over to the band's recordings.
And this is where Wages of War truly stands out. Wages is a San Diego-based hardcore/thrash metal band and, I am happy to say, one of the fastest growing bands in the SoCal hardcore scene. Each of the band's members come from different hardcore backgrounds, but all of them are experienced musicians that have had their fair share of time onstage. Noah is one of the tightest drummers I've ever heard when he's behind the kit. Colin's throaty screams get better every day as he grows into his lead role as the frontman. The band's duel guitar attack is also pretty fucking awesome, both of them sporting hair almost down to their asses and whipping it all over the stage for the insane crowd. As I'm finding more and more common among hardcore musicians, they're all really chill, laid back guys when they're not creating musical destruction onstage. I met one of the guitarists, Travis (or "Big Metal Travis" as he's known) before the show and he gave me a fat bear hug before telling me a good Mexican food place nearby.
Wages of War has recorded five songs to date—two several months ago called "Opposition" and "Failure". Since then, the band has started working on an EP, releasing several of the songs—"Wasted Life", "World of Pain", and "Absence of Eagleson"—that show how quickly the band has matured and how good of a handle they have on this whole hardcore thing. Their shows are quickly growing in size as well. They've already played several sold-out shows at SOMA with such notables as The Dog and Pony Show and The Acacia Strain.
Regardless of your feelings about hardcore, if you're willing to give it just one chance, make that once chance be at a Wages of War show. The group is tight, fun to watch, brimming with great energy, and backed with years of hardcore experience and badass riffage. They have a show coming up on September 8th at SOMA and expect to release their EP soon—keep an eye open for these guys. You won't regret it.
To hear some of Wages of War's new songs, check out their myspace.
Download:
Wages of War -
Opposition
Wages of War -
Failure
- Dominick Duhamel -
Tags:
Wages of War
,
Hardcore
,
San Diego
,
mp3