Artist Profile: Mystery Jets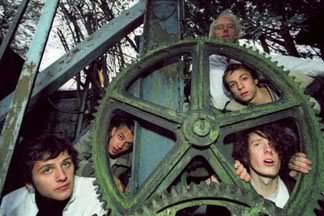 UCLAradio.com
's awesome. Not only do I get to play my favorite music on the internet for anyone (but mostly just friends of mine), but I get to check out some great, new bands and CDs before most people. Well, it doesn't happen all the time, but I get lucky sometimes. For example, back in May I got an EP from this band, Mystery Jets. I tried searching for them at the time, and I couldn't really find any solid info on them other than that the band was from Britain. All I had was a name, and with that I went around to search around for more info.
Well, to start, the EP can finally be found in record stores. I was looking through my local
Tower
sporadically over the summer, and now it's there. It's called "Flotsam and Jetsam", and it has five very strong indie rock hits.
Highlight number 1 is the track "You Can't Fool Me Dennis," a nice, cheery pop number. For some reason, I always think Franz Ferdinand, even though it doesn't sound a whole lot like them. Maybe it's that accent. But really, awesome drum work propels this song forward and some groovy guitar and bass hooks will keep this song stuck in your head for a long long time.
Highlight number 2 is the quirky "Zootime." It just starts with the band chanting the title until the drums come in to kick the song into high gear. It moves into a fairly heavy, funky groove for a while, until the band comes back down for the vocals to return. The band once again, starts chanting "Zootime" evenly, but now the meter is in 3. Throw in some fancy drum spazzing, and it gets pretty disorienting, but so great at the same time. An actual verse doesn't appear until three minutes into the song, but who cares? This band can rock without any sensible lyrics.
Even further, it turns out this band have indeed released an album,
Making Dens
. Bad news though: it's an import. But look at that used price; I may get it sometime soon.
In other news, I have found the band's site and more information on band members. I guess I have been getting better luck with Mystery Jet searches on Google than I was a few months ago. They even have a
wiki page
now…how could I miss all this? Is this all just within a few months? Anyways, it turns out this is a father-son band. Blaine Harrison does lead vocals and other stuff while his daddy Henry plays guitar. William Rees, Kai Fish, and Kapil Trivedi fill out the rest of the line-up.
And one last bit of info. I searched around on
elbo.ws
and found a pretty neat cover they did of Bloc Party's "Pioneers." It's got a slight Latin vibe to it, as well as some haunting background vocals and vibraphone. Very well done I say.
So what are you gonna do now? That's right, listen to Mystery Jets. Do it.
Go check out their website here.
Download:
Mystery Jets -
You Can't Fool Me Dennis
Mystery Jets -
Zootime
Mystery Jets -
Pioneers
- John Higgins -
Tags:
Mystery Jets
,
Flotsam and Jetsam
,
Making Dens
,
mp3