Mixtape: Badass Drum Mix 1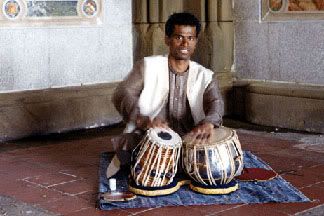 For those who don't know me, I'm a drummer (
Damn straight. --Ed
). The drums have been my instrument for years, and it's generally the first thing I'll notice/criticize when listening to a band. And if you've noticed, most of all of my reviews have been spent talking about the drummer. Anyways, this mix is full of song with amazing drum parts. I'm skipping on a lot of the drum greats with this list, but I mostly stuck to choosing songs that I've been listening to over the summer.
1. Mister Metaphor – 90 Words [
Download
]
My brother and I opened for this band and Logan Whitehurst's Junior Science Club two years ago. I wasn't expecting a whole lot from this Sacramento local band, but they blew me away completely. The drummer was phenomenal, and the songs were pretty tough. Weird time signatures, a lot of changes, a bunch of sudden stops, and this guy did it all. And managed to twirl/throw his sticks in the air. Too bad the band broke up. This is my favorite song of theirs; listen to the beginning, when the band starts playing together. One of the oddest time signatures, and they pull it off so well.
2. The Velvet Teen – Building a Whale
I've said enough about Casey Deitz, and I guess I could go on. I'll let this song speak for itself, though.
3. Blink-182 – Always
Travis Barker has always been one of my favorite drummers. His recent hip-hop stuff with Transplants and Expensive Taste is pretty bad, but his work on Blink-182 was actually top notch. He was always finding ways to make the song interesting, inserting some unique drum grooves and neat drum fills. And it honestly looks like he can play anything without breaking a sweat. This song best showcases his ability.
4. Count Basie – Splanky [
Download
]
Written by Neal Hefti and made popular by Count Basie, this jazz song is one of my all time favorites. The main melody of this song is just so damn cool. But the best part is the chorus, where the entire band is playing out. The drummer gets to play out, catch figures, and just gets to be a badass. I got to play this song for my high school jazz band, and yeah, I got have fun with it.
5. Muse – Assassin
After the whole intro bit, listen to the Howard's fill going into the pre-verse. Now that's a drum fill.
6. Sigur Rós – Track 8 from ( ) Album
This album is awesome, even though it doesn't feature a whole lot of drums. The finale of the album is pretty much the same way. You need to get through 6 minutes or slow, sweeping melodies, and then the drums enter. Then after a few more minutes of buildup, and drums kick into full force around 9:30 mark. It is grand.
7. Joules – Laser Cannon
Another crazy drummer from a Bay Area band. It's off their latest album, "Laser Cannon and Street Thunder", which is actually one 37 minute song split into nine tracks. This is the first track, and it's quite good. This section features more odd time signature and crazy rhythms. Listen around the 1:15 mark and you'll see what I mean. Get the song from their myspace.
8. Queens of the Stone Age – No One Knows
Dave Grohl is the man, and this song is proof.
9. Foo Fighters – Everlong
People listen to the acoustic version of this song so much…almost too much. I think they forgot how much the band arrangement rocks. Really, Taylor Hawkins is a badass, and he shows it in every chorus and pre-chorus. Yeah, I know, the acoustic version is all sensitive and sweet, but this song is just begging for some badass drum fills.
10. Weezer – Undone (The Sweater Song)
Every time I'm on the drums, I'll play this intro drum riff at some point. I don't know, I just think it's awesome.
11. Broken Social Scene – KC Accidental [
Download
]
This song is so badass, it only needs one verse. Just, one. There's no need for any more words than that. The main hook of this song is enough. And the drums are just awesome. I also believe it's required that you play this song loud as fuck.- John Higgins -
Previous Mixtapes:
Murder Ballads
,
An Acoustic Evening
,
Artists On My iTunes That Start With "B"
Tags:
mixtape
,
badass
,
drums
,
mp3