Live: Delta Spirit 9/16/06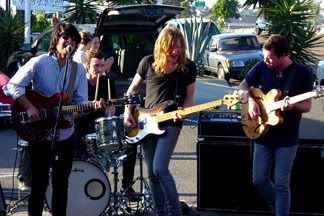 It was only a couple of days ago that Matt and I were talking about how bad San Diego music really was. We spent an entire meal brainstorming, trying to think of a San Diego-based band that we actually liked. Sublime? No, they were from Long Beach. Pearl Jam? No, they came from Seattle, though most of them grew up down here. Louis XIV? That flame died pretty quick. Pinback's not bad, I guess, but is that the best we've got? It's sort of depressing, realizing that your city is the hardcore/scene capitol of the world and that all good music comes from other places.
Which is why God, in His infinite wisdom and perfect timing, brought Delta Spirit into my life. I first heard of them from Matt, who, while dicking around on the Lou's Records website, noticed they were playing a free live show. He gave me the heads up, and so I headed over to their
myspace
to check them out. The first thing I noticed was that a long-haired troubadour by the name of Jon Jameson played bass in the band. Jon is sort of a celebrity among my friends—he and his sister, Jenn, went to my high school and he was one of the founders of Noise Ratchet, a fairly popular emo-rock band several years back. I hadn't heard much about him since, though I noticed several weeks ago with great surprise he and his sister starred in Bonnie "Prince" Billy's most recent music video,
Cursed Sleep
.
I played the tracks posted on their myspace and was instantly impressed. They had a "Kings of Leon head west with Britt Daniel and Julian Casablancas in tow" kind of feel to them, and so I agreed to see them at Lou's the next day with Matt.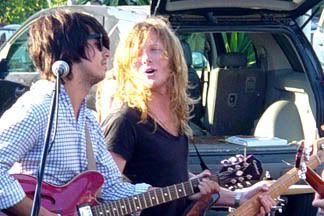 The atmosphere around Lou's was pretty relaxed—the band was still setting up outside the record store a half-hour after they were supposed to have started, indie kids were leaning on cars and park benches chatting, and people were still inside browsing through the aisles. Matt and I picked up a copy of their EP, "I Think I've Found It!" (which isn't actually released yet but for some reason was still on sale), got my camera from the car, and headed out front.
When they finally kicked off the set with the southern-fried "Gimme Some Motivation", the crowd had reached around 35 people. But despite the small number in attendance, Delta Spirit rocked, and rocked hard. The singer (I'm not sure of his name) gave a soulful performance (which is one of the "five pillars" of their music, according to their
blog
), never failing to use his voice to its raucous, full potential. The rhythm section was phenomenal, the drummer nailing tight but unique grooves while Jon delivered the bass like the veteran he is. The guitars were mixed down a bit low, and the lead guitarist particularly seemed a little unsure of himself, but sonically the group was solid and energetic throughout.
The set only lasted about a half hour, as is the case with most in-stores, but nevertheless delivered some very memorable moments. One of the highlights came during the song "French Quarter", as the singer took to the piano and belted the line, "You oughta know, I've lost everything but I still have my soul," after a momentous guitar solo. Also fantastic was the anthemic end of "Streetwalker", which found the singer and Jon howling "Oh Lord, set me free, set me free!" After telling anyone in the crowd over 21 to join them for the Phoenix show later that evening, the band began thanked the sufficiently rocked audience and began to pack up.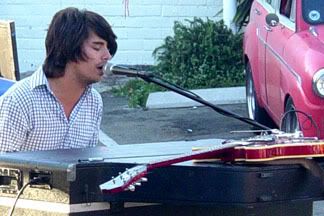 Matt and I mingled for several minutes after, talking with Jenn about what Will Oldham was really like in person (the line "Such a sweet" guy was repeated several times). She introduced us to Andy Bruntel, who directed the "Cursed Sleep" music video, with whom we talked about how shitty most music videos were these days. He mentioned a possible video he was doing with Art Brut, which was of particular interest to me as I had interviewed Eddie Argos for the Daily Bruin the week before. A large part of the audience stayed late as well, hanging out with the band and generally having a good time. It was everything a concert should be, only a little bit shorter.
But the point is this: Listen to this band. Buy their EP, which comes out sometime soon. Go see them play if they are within two hours of you. Please. The integrity of San Diego music depends on you. Plus, they rock hard, plain and simple.
Delta Spirit just got signed to Monarchy Music. Check out the label's website and pre-order their EP here. Check out their myspace, too. Out of respect for the band, we're not posting mp3s this time. Just trust us and buy the album—it's worth every penny.- Dominick Duhamel -
Tags:
Delta Spirit
,
San Diego
,
Live
,
mp3