Mixtape: Songs For The Sleepy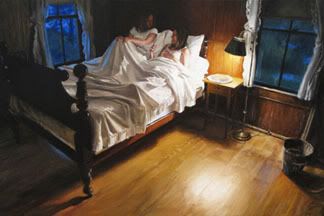 Play this mixtape quietly as you begin to nod off to sleep, and you will have sweet and melodic dreams.
1. My Bloody Valentine – Sometimes [
Download
]
Probably most recognizable from the "Lost In Translation" soundtrack, "Sometimes" is one of the best tracks on "Loveless", the group's 1991 masterpiece. It's all atmosphere and the perfect transition from the hurried pace of every day life into the peace of sleep.
2. Jens Lekman – Sky Phenomenon
Mostly piano and vocals, this song is the cushion that "Sometimes" falls upon. It's slow and dreamy, even at the end when Lekman announces that he can't dance the funky chicken.
3. Seu Jorge – Una Mujer
A track from 2005's "Cru", "Una Mujer" is jazzy and spacious, leaving plenty of space for Jorge's soulful vocals.
4. Sun Kil Moon – Glenn Tipton [
Download
]
My personal favorite track from one of my personal favorite albums, "Ghosts of the Great Highway". This song is Mark Kozelek at his best, wistfully sorting through memories across a nice acoustic background. It's heartfelt and, ultimately, very peaceful.
5. Six Organs of Admittance – Lisboa
The delicate instrumental closer to 2005's "School of the Flower". Chasny's subtle fingerpicking is magical, as always.
6. Ugly Cassanova – Hotcha Girls
Probably the quietist track off of "Sharpen Your Teeth", this track catches Brock in one of his more delicate moments. The violin work is gorgeous and, several minutes through, gives way to a quiet, vocals-only chorus that's truly something to behold.
7. Vashti Bunyan – Wayward
Few artists make music as peaceful as Vashti Bunyan. This track from her 2005 sophomore album showcases here pristine vocals and serene musicianship. Simple and wonderful.
8. Iron & Wine – Sodom, South Georgia
Bedtime is the perfect time for Sam Beam's soft acoustic musings, and this track is no exception. One of many tracks that would work for this mixtape, "Sodom, South Georgia" is the narrative of a man reflecting on events of his life with peace and understanding.
9. Feist – Gatekeeper [
Download
]
This track is the quiet, jazzy opener from "Let It Die". Feist's voice is sublime as she sings of love and the changing of seasons.
10. Gustavo Santaolalla – Zenda
Best known in America for his contribution to the soundtrack of "The Motorcycle Diaries", Gustavo Santaolalla is an instrumental artist from Argentina with a wonderful ear for dynamics. This track is among his quieter compositions, swelling only momentarily in the middle before slowly drifting off.
11. M. Ward – Let's Dance [
Download
]
"Let's Dance" is the perfect song to listen to right before you fall asleep. Ward's voice is gentle and intimate, his guitar work is slow and moody, and his lyrics are romantic and soothing. Closing your eyes and savoring your last waking moments has never felt so good.- Dominick Duhamel -
Previous Mixtapes:
Murder Ballads
,
An Acoustic Evening
,
Artists On My iTunes That Start With "B"
,
Badass Drum Mix 1
Tags:
Bedtime
,
Mixtape
,
M. Ward
,
mp3