Live: The Wedding Singer on Broadway 9/6/06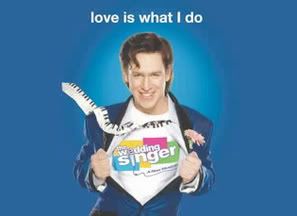 I've been in New York for the past week now with my family. We came for our good friend's wedding, and we decided we'd stay a little longer and see some sites and Broadway shows. Since I don't really have anything to say about the new Beyoncé album, or the new Mars Volta album (which I heard last night, it's pretty bad), or the just-released Justin Timberlake album, I guess I'll talk about one of the newest Broadway shows that's playing right now, The Wedding Singer.
Yeah, it's a musical now. Who would've thought, huh? And guess
who
they got to play Adam Sandler's role (Robbie Hart)? Stephen Lynch is actually a pretty awesome choice, but sadly he wasn't performing the night I saw the show. Instead it was understudy Kevin Kern, who actually looks kind of like Stephen but with some curly hair. Then the other note-worthy character is Sammy, the bassist in Robbie's band, who is played by Constantine Maroulis. You may recognize that name, he was one of those "rock" singers that was on American Idol two seasons ago.
In regards to the plot, it remains basically untouched. However, with a much smaller cast, a lot of the smaller characters (i.e. most of Robbie's family) are cut out all together. What's left to fill the void is Robbie's band, which plays a more important role in the story. And of course, since it is a musical, there is much more singing and more songs in this version.
Overall, I thought the music was just what was needed for the story. Since everything's set in the 70s/80s, the instrumentation is also pretty retro. For the most part it's just a four piece band of drums, guitar, bass, and synths. The instrumentation can get a little too thin at times, and it definitely could use a small string/horn section here and there. But then again, there's always money and time issues with Broadway so I can see how it can't always work out. The outcome isn't so bad, though.
The opening song, "It's Your Wedding Day," was a strong indicator of what was to come: some nice, funky pop music along the lines of Chicago (the band), Tower of Power, and Earth Wind & Fire. Also a cool little note is that when Robbie's band is on stage playing the songs, Stephen and Constantine are actually playing their instruments. And Stephen really can sing; he's more than simply joke songs, he's about joke songs with a catchy melody and memorable vocals. I couldn't get him out of my head singing that damn chorus over and over again.
Some of the songs get kind of cheesy, but in that cute way. Take "Get Out of the Dumpster," for example, sung by Julia after Robbie's first day on the job post-Linda. After insulting pretty much everyone at the wedding, Robbie gets thrown in the dumpster and decides to stay there, too depressed to get out and move on with life. Julia's attempt to get him out includes lyrics like "Everyone has a dumpster / a stumbling block they can't ignore / but to fight it makes you stronger / and next time you might stand." They're meant to be cheesy—this is a comedy after all—so it works.
There's some great sounding pop rock songs, sweet mid-tempo funk tunes ("Someday"), pretty pretty ballads ("If I Told You"), and even a hip-hop, all about weddings, break-ups, and love. Nothing's too ground breaking, but it's damn catchy and performed very well. They even incorporate "Grow Old With You" with some light organ and percussion, which was a brilliant addition.
One of the few bad comments I have about the show are about all the synths. Sometimes they add a nice layer of lushness and energy, but other times it sounds like it comes out of some cheap plastic Casio keyboard. Other than that, I recommend The Wedding Singer for anyone that's going to be in New York sometime soon. And if you won't get a chance to see the show for a while, you can always get the soundtrack. It's pretty much the entire show, so you can't miss much.
Download:
The Wedding Singer -
It's Your Wedding Day
The Wedding Singer -
Come Out of the Dumpster
The Wedding Singer -
Grow Old With You
- John Higgins -
Tags:
Wedding Singer
,
Stephen Lynch
,
Broadway
,
mp3