Artist Profile: Adrianne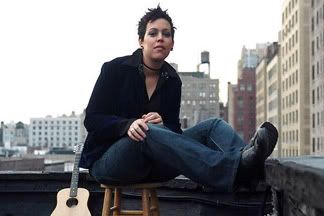 Coffee house performers tend to be hit or miss. These small and intimate venues seem to attract either incredibly talented, non-mainstream artists or horrible musicians and singers who can't get heard anywhere else. Los Angeles-based singer-songwriter Adrianne is a rare member of the former. She's a touching performer with a natural talent for writing solid songs.
When you see Adrianne step onstage in her black tank top and tattoos carrying an acoustic guitar, you may start preparing yourself to hear the unfortunate results of a tough punk front-woman moonlighting as a singer-songwriter. Instead, her beautiful voice reveals an honesty and vulnerability that is the stuff of teenage diaries, expressed with the maturity of a grown-ass woman. Her vocals are straight from the gut and from the heart. Even if Adrianne didn't posses the pipes she was blessed with, she could have a solid career as a songwriter. She knows the importance of song structure that is lost on so many others of her genre. You won't hear any never-ending wailings of unintelligible lyrics from this woman. Adrianne's songs are built to last, with great attention paid to indestructible chord progressions that sound fresh every time and choruses that could have been tailor-made for love-sick AIM away messages (that I'm guilty of posting myself).
What makes Adrianne even more appealing is her outstanding stage performances. She is both humble and confident, ready to share stories in between songs as if she were already best friends with each and every member of the audience. She giddily tells of how one of her favorite songwriters wrote a song about her, and urges us to listen to it on the band's MySpace page--but she makes us
promise
not to tell anyone who it is. We hear of her embarrassment being the house performer in a restaurant in Mexico who was teased by the kitchen staff for not knowing any Spanish, despite her Latino heritage. She then sings a heartbreaking and flawless rendition of "Bésemé Mucho", the one Spanish song she learned to appease them. In fact, Adrianne frequently compliments her own songs with unique covers. Most recently, she performed the Violent Femme's "Blister in the Sun" in a style more lovely than I could have ever imagined anyone could achieve. Her most notable use of covers is on her song "Shooting Star". Both live and on her record, Adrianne ends the song with about a dozen samples of popular songs that have the same chord progression. A good-humored jab at herself, the performance also illustrates the fact that Adrianne knows how to take what works and make it genuinely her own.
"Down To This" is one of Adrianne's three albums. It is a collection of live recordings that sound just like they do each time I hear them performed. One of the best songs is the opening track, "Shout it Out". When I first saw Adrianne by accident about two years ago, this song stuck out to me. I only heard it once before I was able to finally buy her album a year later, but I never forgot it. "Don't whisper in my ear, shout it shout/ Shout it out loud so I can hear." The driving acoustic style is catchy in the best way possible. In a more poignant song, "As I Am", Adrianne tells of the challenges of facing prejudice but ends with the uplifting message of loving herself and only feeling sorry for those who just don't understand her: "For them I might be praying/ I'm thinking they need saving/ For all those righteous feelings going round."
Adrianne's music is perfect for any time-–studying alone at night, nursing a broken heart with a pint of ice cream, driving in your car, or sipping an iced mocha in a coffee shop with your best friend. If she's playing a show near you,
do not
miss out on an opportunity to see this talented musician live. If you can't make it to see her, buy her CD, and I guarantee you will never get tired of it.
Download:
Adrianne -
As I Am
Adrianne -
Shout It Out
Adrianne -
Shooting Star
- Stacey Capoot -
Tags:
Adrianne
,
Down to This
,
mp3