Live: The Black Keys 9/12/06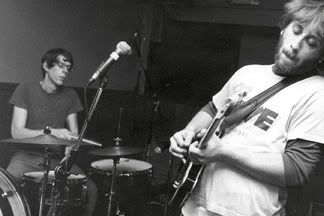 For how good the Black Keys are, there certainly weren't very many people present for their short set at Amoeba Records in Hollywood. The duo of Dan Auerbach and Patrick Carney have been delivering solid blues-rock since their debut in 2002, and their show at Amoeba only further secured the crown of low-fi, white-guy blues upon their head.
The set was a short one—almost painfully short. They kicked it off with "10 A.M. Automatic" and "Girl On My Mind", a couple of their more well-known tracks from 2004's "Rubber Factory". Auerbach's voice is as raw and glorified live as it is on their albums, emanating from his bearded visage in a way so natural that its difficult to imagine him anywhere other than standing in front of you, singing his heart out. He was a joy to watch on stage, the music flowing through him and contorting his body at times, which, I'm fairly certain, had to do the fact that he was stoned. Carney was in top form as well, hammering out his trademark beats on a miniature jazz drum kit and doing his best to hide his priceless drummer faces.
They continued with a few tracks from their new album, "Magic Potion", which had been released that very day. Both rocked pretty hard, though the extended and hard-rocking version of "Strange Desire" (which starts out with the terrific line "I don't wanna go to hell / but if I do / it'll be because of you.") was the highlight over "Just Got To Be" and the album's obvious first single, "Your Touch". After a couple of older songs, the band closed with "Set You Free", a fan favorite from 2003's "Thickfreakness". The set lasted twenty-five minute in all, and most in attendance were left wishing they had bought tickets to one of The Black Keys' sold-out shows in L.A. later that week.
After getting our albums signed (a very rushed and impersonal process), my friends and I headed across the street to Jack in the Box to hold us over until we got home. On the way back to the parking garage, we bumped into Dan and Patrick, who were staying late talking to a few people. They both seemed socially uncomfortable, but I managed to strike up a conversation with Patrick, with whom I discussed his jazz drumset and style of drumming. He saw the signed vinyl copy of "Magic Potion" I had it in my hands and proudly pulled it out, explaining that the vinyl was very high quality, and that it sounds really great on a record player. We exchanged awkward goodbyes. And that was that.
Download:
The Black Keys -
10 A.M. Automatic
The Black Keys -
Strange Desire
The Black Keys -
Set You Free
- Dominick Duhamel -
Tags:
The Black Keys
,
Live
,
Amoeba Music
,
Magic Potion
,
mp3