RADIOHEAD LP7 MINDFUCK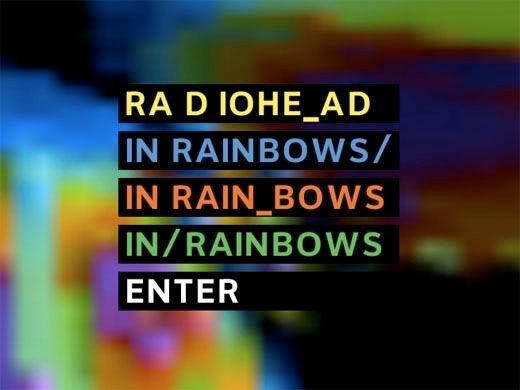 With every other blog buzzing with news of the new Radiohead album and my own personal claim to be the biggest Radiohead fan ever, you don't think I could leave this one untouched, did you? After all, I did spend almost two weeks this summer assembling a complete, four-disc collection of Radiohead b-sides, rare live tracks, and alternate versions.
Just when you think that musicians have finally settled into the whole our-album-will-inevitably-leak-so-let's-just-accept-it-and-try-and-survive-regardless frame of mind, a band like Radiohead comes along, and, as usual, changes everything.
For those of you who haven't yet heard (read: none of you, hopefully), Radiohead is indeed releasing LP7, entitled
In Rainbows
(kind of a lame name, but I can live with it), on October 10 and will be download-only (for which you only pay as much as you want!) for the time being. You can also pre-order the "discbox", which will be shipped to you by December 3rd.
From the Radiohead website:
"The discbox consists of the new album,
In Rainbows
on CD and on 2 x 12 inch heavyweight vinyl records. A second, enhanced CD contains more new songs, along with digital photographs and artwork. It also includes artwork and lyric booklets. All are encased in a hardback book and slipcase. The album download automatically comes with this pack."
Which is amazing, right? It may cost something like eighty dollars, but let's be honest, it's totally worth it. Here's the tracklist:
In Rainbows:
1. 15 Step
2. Bodysnatchers
3. Nude
4. Weird Fishes/Arpeggi
5. All I Need
6. Faust Arp
7. Reckoner
8. House of Cards
9. Jigsaw Falling Into Place
10. Videotape
Bonus CD:
1. MK 1
2. Down is the New Up
3. Go Slowly
4. MK 2
5. Last Flowers
6. Up on the Ladder
7. Bangers and Mash
8. 4 Minute Warning
It's got a lot of songs we've already heard from the live demos of their last tour, but one can only assume they'll sound much cooler/better/different from the studio. If you can't already tell, I'm out of my mind with excitement. And you should be too.
Self-releasing the album, allowing you to pay as little (or, in some cases, as much) as you want, springing the news a mere ten days before its release date… how mind-blowing is this?
Download:
Radiohead -
15 Step (Live) [mp3]
Radiohead -
Arpeggi (Live) [mp3]
For more info and to pre-order the album, click here.
Labels: In Rainbows, mp3, Radiohead, Thom Yorke