Track Review: Simon Joyner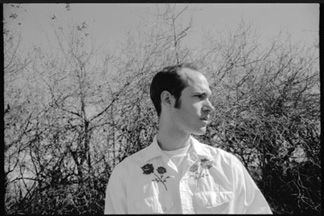 "Is This How Generous You Are?"
From "Beautiful Losers: Singles and Compilation 1994-1999"
7.5/10
I've always wanted to believe that I could stumble across an artist unknown by anyone with an eclectic musical liking, or anyone with a shitty musical liking for that matter. When I came across Simon Joyner I thought I had done just that. Without doing any research on him I just assumed he was an obscure indie/folk songwriter. Since I still don't know his history, I am hesitant to look him up on Wikipedia, mostly because of the fear of discovering he was the singer of Scorpion or some eighties hair metal band. I don't think that is in any way going to be the case, but who knows. So back to the important part of this review, or the part where I ramble on about the outstanding ability of this lo-fi musician, my thoughts on a piece of Mr. Joyner's work. "Is This How Generous You Are?" is track twenty from the somewhat recently released "Beautiful Losers: Singles and Compilation Tracks 1994-1999" 2xLP.
I might have lied about looking up some information on him. I don't know much about him, but I have investigated into what critics have written about him. In one review, of Simon Joyner, by Thom Jurek of All Music Guide he boldly states, "It's not critical hype to say that Joyner possesses the same emotional depth as Leonard Cohen, or the same ability to tell a story." I don't actually know why I said boldly because at times listening to Simon Joyner I do see why he says this, it is clearly noticeable in his songs.
In this song there is a certain sadness, almost like a drunk person who has just had his heart broken by someone he loved dearly. The only thing keeping beat is a tambourine hitting a hand, and there is a very quiet organ in the background almost sounding like a violin. The combination of these two things along with the basic country-like guitar create an almost Johnny Cash sounding resonance. As simple as the guitar is it is powerful, but the most unforgettable part of the song is the way he says "Is this how generous you are?" It is like he is really asking that question of someone, and at that very moment you hear it and you realize that most likely he wrote this out of wanting to truthfully ask someone that question. It is very rarely, I believe, that you hear a feeling of such hurt in a song. That is why I found it easy to pick this song out of the twenty-one tracks to review, because it at least appears so real.
Visit Simon Joyner's myspace here.- Ryan Cox -
Tags:
Simon Joyner
,
Review
,
mp3