Album Review: Muse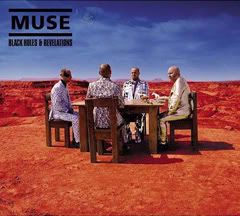 "Black Holes and Revelations"
Warner; 2006
6.5/10
With all the Radiohead comparisons, it's actually kind of funny that Muse's latest release came on July 11, the same day as The Eraser hit stores. As with their previous efforts, Matthew Bellamy and Company go for their biggest, grandest sound yet on Black Holes and Revelations while trying to separate themselves from their influences. The outcome is somewhat successful. Though the album contains a wider range of styles the previous Muse albums, some of the tracks seem like rehashes. Furthermore, though the band seems to finally come into its own, including Matthew Bellamy's outstanding vocals, there are still a few aspects that continue to tie them down. The multi-tracked vocals, for instance, just scream "Queen".
Regardless, Muse has made some stand-out tracks while trying out new styles. For example, "Starlight" and "Supermassive Black Hole" feature—oh yeah, I'm doing it—some sweet, supermassive distorted bass. Consequently, all the other instruments almost become an afterthought at times. However, Dominic Howard's "less is more" approach makes the spacey love song "Starlight" grooves so much more than it should. And did I mention how much tighter the rhythm duo of Howard and Chris Wolstenholme have become? The dance-rock tune "Supermassive Black Hole," although not a virtuosic masterpiece, locks in solidly and should be playing in all of the clubs instead of "SexyBack."
In fact, most of Black Holes and Revelations has Howard holding back his regular barrage on the drums. So what prompted Pitchfork's Sam Ubl (whose review you can find
here
) to declare that Howard believes "every measure of music should contain at least one drum fill", I may never know. But I do know this is, in fact, not the case. Excluding the opener "Take a Bow," the first five tracks contain maybe a handful of modest drum fills at best. But honestly, that tom groove in "Map of the Problematique" is deadly.
However, a lot of the songs on this album sound like they've been done before. "Take a Bow"? It's arranged a lot like Origin of Symmetry opener "New Born," but it lacks the same energy and doesn't have nearly enough volume or depth. "Soldier's Poem" sounds like the band's attempt to make another track like Absolution's "Blackout." Then "Assassin," containing one of Howard's more badass drum fills in the entire Muse catalog, sounds like "Stockholm Syndrome" but with a different rhythmic hook. Hopefully this isn't a sign that Muse is running out of ideas.
On the bright side, the best moments of the album come in the last few songs as Muse is experimenting with some flamenco-style guitar and going back to their roots. "City of Delusion" actually contains some acoustic guitar for a while and some cool string arrangements until the huge, tom-filled drumming kicks it into the chorus. Now that's the Muse I remember, but sadly we're on track nine of eleven. Then "Hoodoo" opens with some cool solo guitar work and is the lone song on the album with the plain old grand piano. Bellamy just shines in the song, showing off his range in pitch and volume.
And then there's "Knights of Cydonia" (Check out the no nonsense music video for the song on
YouTube
). In a little over six minutes, the song moves along three movements. Although Sam Ubl (see aforementioned link) likes to believe that the song opens with "a galloping 6/8 drumbeat slathered in mariachi trumpets," it is actually played in completely straight 4/4 time. It makes me wonder if he even bothered listening to the album, or if he just doesn't know anything about rhythm…and music. But regardless, after some pretty neat drum fills (in their appropriate spots), the song builds and builds into a huge climax of multi-tracked vocals. The sad part is as awesome as it is, one can't help but think "Bohemian Rhapsody" and Freddie Mercury all through the song. They're even structured identically.
So Black Holes and Revelations is a good album. There are enough awesome tracks on here to deserve a listen. They may not be the best songs Muse has written, but they have definitely done
worse
.
Download:
Muse -
Starlight
Muse -
Map of the Problematique
Muse -
Knights of Cydonia
- John Higgins -
Tags:
Muse
,
Black Holes and Revelations
,
Review
,
mp3