Artist Profile: Lily Allen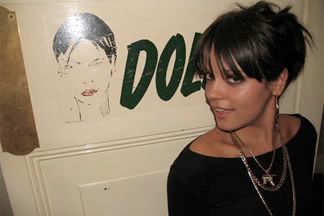 Lily Allen: A Myspace Love Affair
I'm not one for MySpace. For some reason it simply doesn't grab me like it has for so many millions. While I use it to keep in contact with a few old friends, I don't sit there for hours viewing the profiles of an infinite supply of girls from the other side of the country. No, that's just a waste of time. But it does provide a charitable service: a free and popular location for musicians to promote their material, where they're guaranteed an audience of millions of bored/curious/impressionable MySpace addicts. Personally, I've only "discovered" one worthy artist through this site. When signing in one day, I saw a picture under "MySpace Music" of this beautiful girl, probably about 20, with wide eyes and jet-black hair. This being the sort of girl who grabs my attention, I clicked her picture, pessimistically anticipating some kind of Kelly Clarkson song (not to bash Kelly too much – the chorus of "Since U Been Gone" is fucking awesome, no question). Instead, I was greeted with what sounded like the backing band of a show tune.
She's a young British girl with a dirty mouth like so many Brits, and a sweet, sarcastic voice. After hearing the four songs on her MySpace, I spent a good deal of time trying to put a title to her unique genre. As I am writing this, I find the old computer file containing my ramblings of this event. My first impressions that day were, "upbeat and optimistic, sunshiny ragtime twang, with the beats of the Streets. Almost reggae show tunes – transcends genres." And still I have to stick by that description; it's as accurate as I can do. She truly and unexpectedly blends a multitude of genres – most of which can be pinpointed to a particular, 40-to-70-year-old recording – and creates something fresh and original.
Some key tracks are:
"Knock 'Em Out"
is about a girl who's been hit on one-too-many times by greasy sleaze balls. The chorus is rather straightforward: "just get out my face, just leave me alone, and no you can't have my number cause I lost my phone – oh, yeah, im pregnant, im having a baby in, like, six months." Great shit. It'll stick in your head.
"LDN"
– Starts with Spanish horns and moves into a pocket beat. Upbeat, reggae guitar, summery, great.
Check out Lily Allen's Myspace and listen to her album here.- Austin Bauer -
Tags:
Lily Allen
,
Alright Still
,
mp3