Live: Wilco 7/5/06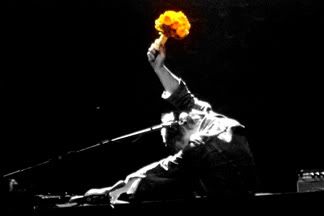 Wilco Performs at the Largest Music Festival in the World
On July 3rd, 2003, I first saw Wilco right here at Summerfest, on this very same stage. I had seen them once on Austin City Limits and said what the fuck, I'd go. It was the most memorable show I have ever been to, and here we are again same place, almost exactly three years later, July 5th, 2006. Summerfest: The World's Largest Music Festival. Milwaukee, Wisconsin.
Until recently I'd lived in Milwaukee all my life. As a state, we appreciate the general title of "The World's Largest," whether it is people, water parks, or music festivals. Summerfest, while it is officially the world's largest, is by no means the world's best music festival. Its focus on washed up 80's rockers has only worsened with time. But every year there are a couple of acts that are worth the $15. This year it was Wilco, who unfortunately overlapped with Medeski, Martin, and Wood.
It's not that I couldn't have seen a few MMW songs. It's just that I had to stake out the Wilco seats, perfectly situated at the first picnic table, with a crowd of people in front of me that reached up to the stage whose heads only reached my chest. We were a bit far, though, so I couldn't really make out the band's facials expressions. In short, I had a pretty great view, considering how late I was.
Right on time, as it grew noticeably darker every minute, Wilco took to the Miller Oasis stage, situated under an enormous overpass in the middle of a 20-road interchange. Holy fuck, what a place to have a concert. Without saying a word, the band opened with a surprising "Ashes of American Flags." Jeff Tweedy sang strained and quiet through the whiskers of a juvenile Jim Morrison beard, but his acoustic was too loud. It was distracting for the first few songs until he put it away, and the problem was gone.
Early in the set, "I Am Trying To Break You Heart" ended with the usual noise breakdown, but drummer Glenn Kotche changed the drum pattern from the rest of the song, and also from the album. It was fresh and interesting for a band that rarely plays their songs much different from the record.
In the beginning, the crowd response was disappointing. That's what you get at such a general festival, no focus at all. Tweedy didn't speak to us until after the sixth song when he said he felt intimidated and asked us to sing along. The crowd responded. By the kickass funk rocking of "Kingpin," he had us in his hands.
After the main set closed with the fantastic dynamics of "Hummingbird" and we all clapped for five minutes, Wilco again took the stage under the overpass and played "Misunderstood," with Tweedy screaming "nothing" over and over again while the band pounded away for a minute and a half.
That was about the time they brought out the bouquet and began tossing it around between songs like children. Who knows where it came from, all I know is those roses smelled good from 35 rows back.
I had been waiting and hoping for "Spiders (Kidsmoke)," but they ended the encore, and Summerfest usually frowns upon double encores and likes to shove everybody out right away. The bastards. But the lights and music remained off. The crowd cheered for what seemed like ever. Wilco set up again under the overpass and finished off the night with two great songs: "A Shot in the Arm," with its tape loops and timpani, and, finally, "Spiders." At the end of this 10-minute jam, the band stopped, held it, held it, and so did the breathes of some of the audience (the ones who were paying attention), and the band came back in with one more chorus.
Dodging security, we sat around for a while talking about the show. It got a lot of the people I dragged along, who are usually indifferent about music in general, excited about the band. So Wilco, again, succeeded; they won new fans and impressed the rest. I'll be seeing them again. In a month.
Setlist:
1. Ashes of American Flags
2. Handshake Drugs
3. The Late Greats
4. I am Trying to Break Your Heart
5. Impossible Germany (new song)
6. Airline to Heaven (solo)
7. Don't Forget the Flowers
8. At Least That What You Said
9. Jesus, Etc.
10. Walken (new or no?)
11. Theologians
12. I'm the Man Who Loves You
13. Heavy Metal Drummer
14. Kingpin
15. Hummingbird
First Encore:
16. Misunderstood
17. War on War
Second Encore:
18. A Shot in the Arm
19. Spiders (Kidsmoke)
Download:
Wilco -
Misunderstood [Live]
Wilco -
Spiders (Kidsmoke) [Live]
- Austin Bauer -
Tags:
Wilco
,
Summerfest
,
Live
,
mp3